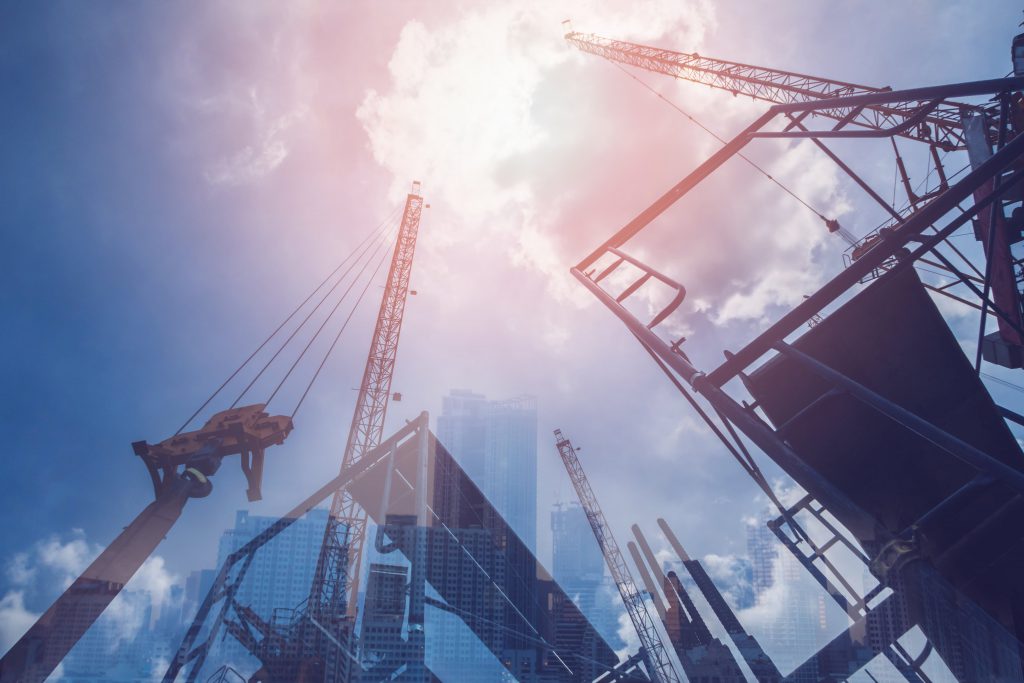 Digital incident reporting in the construction industry
Digital construction, digital incident management and online forms are becoming far more ingrained in the built environment. The use of digital incident reports are growing popular. In fact, business process automation is at the forefront of streamlined processes.
Many departments in organisations use QHSE workflows and approvals. For example, procurement teams issuing purchase orders or design teams automating steps to approve drawings. Also, quality control teams manage inspections and tests to maintain quality for processes such as incident management.
Health and safety lends itself well to automated business processes. Good catch practice forms significantly improve through automation. For example, online forms record incidents and near misses more accurately. That is, comparing to unreliable and insufficient paper forms.
Safety and the construction industry
Construction is a high-risk industry as busy sites are full of potential hazards. Therefore, it is essential to have efficient health and safety methods in place.
Over the past two decades, construction companies have had many safety improvements.  For instance, legislation and better construction methods are key factors. In addition, the adoption and implementation of health and safety management systems has increased. Particularly targeting incident reporting and incident management processes.
Implementing digital QHSE workflows
Today, more and more companies are going digital.  Moreover, automated systems, workflow software and online forms are increasingly rising. Adoption will allow you to keep up with competitors. As well, it further displays current safety practices in your company.
Incident reporting guidelines and procedure
Traditionally, incident reporting was reactive and tended to use only past incidents as review basis. A phone call, meeting and note in the accident book might have been the only way to record incidents. Clearly, this isn't a secure method for incident management or health and safety quality control.
In organisations, there are industry standard reporting guidelines to manage health and safety. One of the common features of industry guidance is to 'Plan, Do, Check, Act'. An automated process can complete this for construction incident reporting.
Digital construction incident reporting tools
Standard incident reporting procedures normally involve specific reporting tools such as a form to fill in. Also including, a process to follow to escalate the incident to management. That is, depending on the severity.
Digital workflows and process automation reduce process failure. For instance, there is less reliance on employees to take positive action. For example, making phone calls and sending emails.
Legislation and incident reporting
Legislation varies from country to country. But, generally it places a duty of care upon construction workers. That is to say, it manages the health and safety for themselves. And for those around them, so far as it is reasonable.
More information on this can be found on the relevant government website for your region.
There are numerous regulations that you must be aware of when working on a construction site. For example, lifting operations, control of hazardous substances or incident reporting guidelines. With online forms and QHSE workflows, you can easily automate legislation compliance.
Companies thinking ahead use business process automation for effective audits of construction sites. For example, compliance with laws, regulations and good industry practice. As a result, strengths and opportunities emerge, identifying room for improvement. Changes can then be made for better health, safety and quality on construction sites. In addition, it can highlight areas that raise concern, to urge corrective action.
Why is your safety incident reporting procedure important?
Incident reporting workflow and procedure is incredibly important to any construction business. That is, from an ethical, statutory and profit point of view. Accidents are bad for business. Moreover, many clients ask for accident history when tendering for any work.
Without a good system to report incidents, it is harder to learn from past mistakes. Even more, it is difficult to make changes that avoid recurrence. This would be viewed negatively in any accident investigations.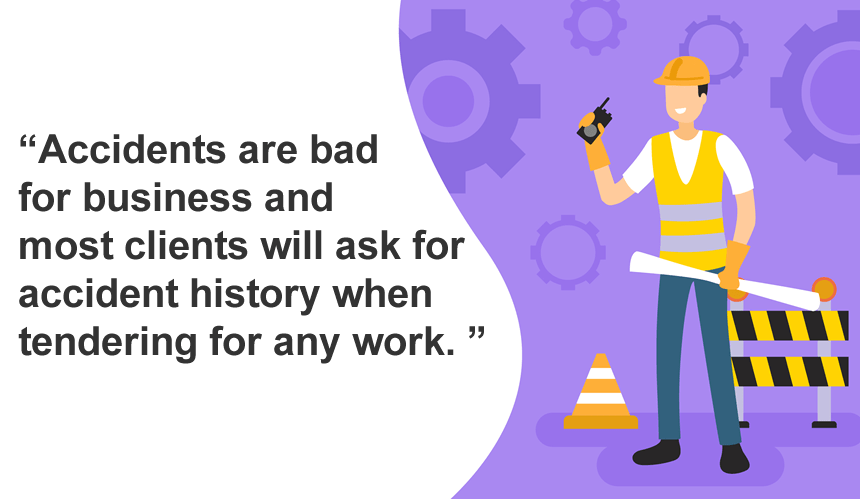 The 'Check' stage is recommended when managing health and safety. This involves performance measurement and investigating accidents, incidents and near misses. Hence why an efficient incident reporting workflow needs to be effectively in place. Simply put, incidents need reporting as soon as possible. Specifically, to capture details for escalation to appropriate managers.
Also, the procedure should identify trends. For example, minor hand injuries may not require serious escalation. However, larger numbers of minor hand injuries could signal a worrying trend. And therefore, is investigated to spot a pattern.
What could happen if your safety incident reporting procedure isn't working?
For good reason, many countries have strict rules on reporting accidents. For example, the U.K. has Reporting of Injuries, Diseases and Dangerous Occurrences Regulations 2013. Ireland has Safety, Health and Welfare at Work (Reporting of Accidents and Dangerous Occurrences) Regulations 2016. Further, the U.S. has the Occupational Safety and Health Act of 1970 where reporting is detailed in Section 8.
Regulations set out minimum reporting timelines. That is, for specified injuries, dangerous occurrences and occupational diseases. Therefore, a safety reporting process is critical. Reason being, it ensures that these issues are captured and reported in the statutory timescales.
Kianda software easily tailors to meet specific laws and regulations. As well as that, it prepares to adapt to any changes in legislation, as they occur.
An example of an report required by these regulations would be if a scaffolding collapsed in Ireland. It must be reported to the Health and Safety Authority in ten days, or risk prosecution. On the other hand, in the U.K., an incident such as this should be reported immediately.
Inefficiencies and inaccuracy in safety reporting can be fatal.
According to the Health and Safety Authority, in 2019 a total of 46 deaths occurred within the workplace with 12 people on constructions sites alone.
"Construction workers engage in many activities that may expose them to hazards. For example, falling from a height, unguarded machinery or being struck by construction equipment"
Incident reporting should be prioritized and consistent with every incident. Accordingly, this improves the incident management process. Consequently, reducing the number of accidents in the work-place.
Fatalities must be reported and even near-misses so that workers can implement different and new methods. In doing so, the likelihood of a future accident will decrease.
Reporting a reportable occurrence is a legal obligation. And penalties are given to those who choose to ignore this. Consequently, there can be custodial prison sentences for the responsible person or persons. Also, a large fine for the business.
Learning from incidents reduces the risk of recurrence (and the severity if they do reoccur). Also, it is key to keep workers safe and incident free. In turn, this keeps a business profitable and successful. As well as promoting a safe or safer environment for employees.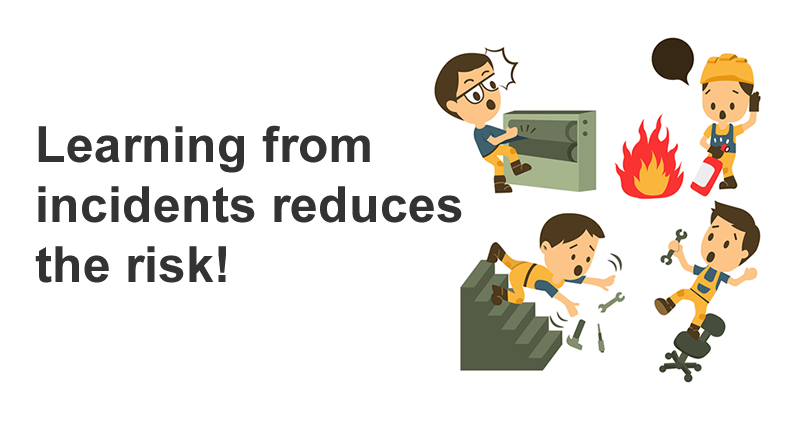 Why use digital workflows to manage incident reporting?
Digital workflow software can be used to implement online forms for incident reporting. Moreover, an online form is used to ease the reporting of incidents. Simply by providing visibility to management and obtaining key metrics related to the number of near misses and incidents.
It should also collect information about why incidents may have happened. Then suggestions on preventing recurrence.
Effective use of an online form for incident reporting reduces the time it takes for people to report incidents. Additionally, it reduces additional paperwork and tracks identified actions. Again, preventing recurring incidents.
Online forms also allow for high quality control standards. Simply, by setting mandatory fields for data input.
Management information and monitoring
Management can view weekly, monthly and yearly overviews of performance via dashboards. As a result, decisions aim to target reducing the risk of future incidents.
A track record of the steps taken is provided. This demonstrates company effort to improve their health and safety record.
By reviewing health and safety performance, lessons can be learned. Because of this, they can be shared through several mediums. For example, additional training, purchasing new equipment or a reviewing approved sub-contractors.
Implementing digital construction incident reporting
The end users of the system must be considered when implementing the systems. As well as those in the management chain. Barriers to reporting should be minimised. Further, employees should be trained and able to submit forms online or offline along with easily capturing incident data.
Effective incident reporting systems focus on near miss reporting and good practices. Near misses are useful for looking at close calls where someone has been lucky. With that said, essentially putting steps in place ensures that luck doesn't play a part in people's future safety.
An example of an incident report involving pro-active management is good practices. In short, this looks at what goes well and providing feedback to the teams. Particularly, improving morale and belief in health and safety incident management along with distributing good practices to other teams.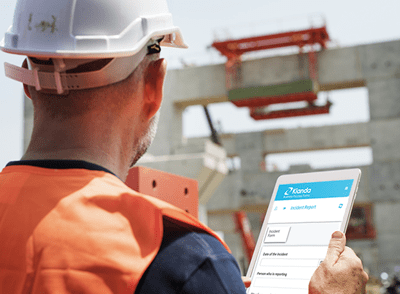 Kianda is a software platform, allowing companies like yours to automate and streamline business processes. With online forms, you can simplify your incident management processes easily. In doing so, you will deploy rapid incident reporting forms pro-actively and effectively.