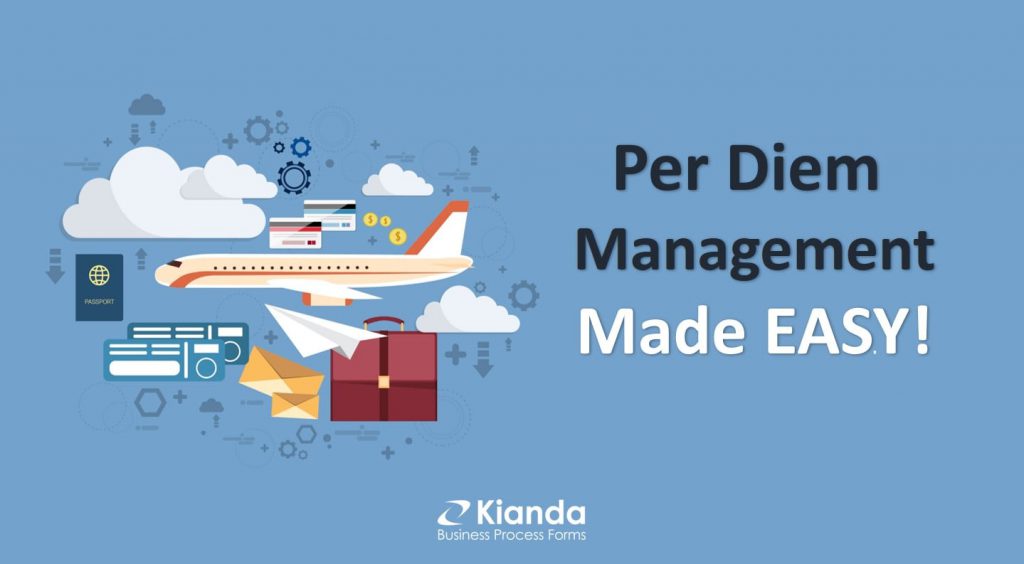 Per Diem means Per Day. Also, referred as daily allowance.
It is a particular measure of money an organisation provides for an individual to ensure better expense management. To be more clear, it is frequently a representative of the organisation.
It covers everyday costs when travelling for work. A per diem can incorporate part, or the majority of the costs acquired. And most companies pay the government rate, which is based on the cost of living in the location being visited.
In aviation, per diem is usually available to a pilot, flight attendant, crew member or office staff who are travelling for business. Specifically, it is the reimbursement for his or her meals and incidental expenses. And, every airline pays differently per diem rates.
Read – How an aviation company streamlined their HR and Finance processes
One method is employees request the actual cost of meals, lodging, and incidental travel costs may be deducted. That is, subject to certain limitations, providing the invoices and receipts.
On the other hand, there is the allowance method. In short, an employee is only required to prove where they were, and that they were travelling as a requirement of their work. Generally, in the aviation industry, most employees and independent contractors use the allowance method.
How to optimise per diem management
Kianda Forms allow users to manage per diem, all in a single platform. In turn, this strengthens overall expense management in an organisation.
With an automated workflow, flight personnel or office staff can easily make per diem requests. And they can submit their requests, before or after they travel.
This automated process empowers personnel to do their per diem calculations and request rapidly. It is presented as a simple online form where employees can consult what is available to them.
Kianda platform provides capabilities for users to work offline. That is to say, it is highly suitable for industries that involve a lot of remote working, in remote areas.
As employees in the aviation industry frequently fly on long-haul flights, remote access is essential.
With Kianda, they can submit per diem requests, even when they are off-line during a flight.
Employees can easily reach the information they need and submit their per diem requests. More importantly, they can do so without any delays or unnecessary email communications.
Information related to the submissions can be stored in the company's existing data systems. Moreover, to ensure regulations and compliance, all information can be managed and tracked efficiently.
Looking for a better solution?
Eliminate the errors to bring consistency in your per diem management process. In addition, managing processes digitally reduces the amount of time a task would normally take. Because of this, saving time allows you to instantly save costs. With more time on your hands, you can devote it to other aspects of the business.
Moreover, per diem allowances enable better expense management. As a result, managers have greater control over financial spending across the business.
Discover how Kianda can allow you to achieve great results. Above all, you can take your operations to the next level within Aviation industry with digital process automation.