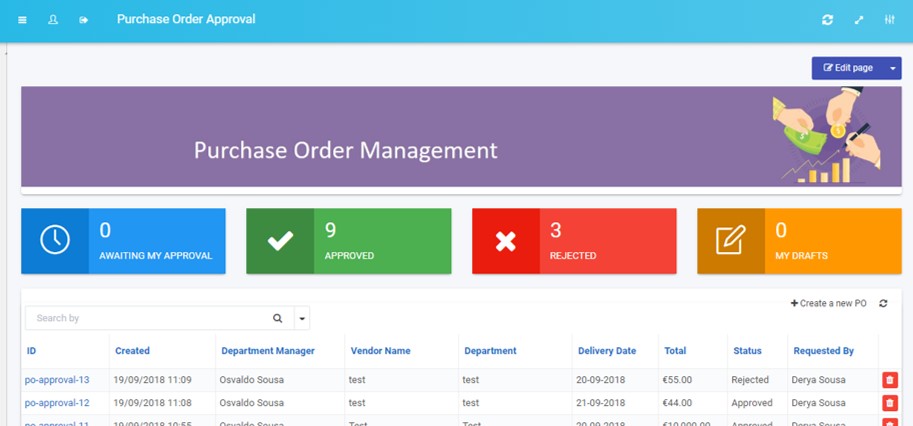 1. Does this template allow us to upload documents? Yes, absolutely.  You can upload supplier invoices or any documents. You will need to set up a data connection to define a file storage location.
2. Can the tickets be assigned to a group of people instead of individuals? Yes, tickets can be assigned to a group or multiple individuals. Rules can be set to assign dynamically if someone is on holidays.
3. Can this send an automated email to a supplier as well? Yes, it can. In the form you can select to send notification to supplier or not.
You can use a Purchase Order Process to better control purchasing of products and services from external suppliers. Moreover, PO software can help you accelerate your purchase order process.
Every business has a goal to cut costs and increase profitability. But, using the wrong tools and systems to carry out business process actually do the complete opposite. Put clearly, insufficient systems spike costs and shrink profits. 
Manual purchase order processes require a significant amount of time. If the necessary time is not dedicated, then you are prone to encounter risks and other issues that affect both the process and the business overall. 
Everyday organisation's continue to switch to  more efficient methods to carry out their Purchase Order Process. Using out-dated methods like paper-documents and spreadsheets ultimately put a cap on businesses capabilities. On the other hand, using digital methods such as a PO software helps company's reach their optimum potential levels.
Optimising purchasing management using PO software will maintain greater purchase control over the entire process. Additionally, transforming your purchase order process into a digital system will consequently open several opportunities for you to introduce efficiency.
For instance, digitalising your purchasing management process will help you mitigate risk. As well, it will reduce costs and enable you to improve decision making allowing you carry out the process, rapidly and efficiently.
Using spreadsheets for purchasing management can cause errors
When you or your team rely on manual  tasks like email and spreadsheets, it increases the risk of lack of visibility and error-prone results. As a result, compliance and efficiency will suffer.
Without a transparent overview of your purchase order process, it is difficult for managers to make clear decisions when planning purchases. As a result, it is quite easy to make mistakes and overspend.
Lack of structure in your purchase order process will inevitably incur additional expenses. Because of this, budget is automatically affected followed by company financial forecasts.
In order to align with strategic goals, it is essential to implement the correct system to carry out purchasing management. Gaining better control over purchase order processes will help your business avoid unexpected costs while succeeding in reaching end year goals.
Digital purchase order benefits
Manual purchasing management is expensive, time-consuming and overall, difficult to efficiently maintain. Using PO software will not only save you time, but also help you structure the purchasing process. With the help of a process automation platform like Kianda, you can transform your cumbersome purchase order process into a time and cost-effective process.
Key benefits of using PO software:
Multi-step Approvals Based on Limits
You can include multiple layers of approvals based on a threshold so that high volume purchasing can be approved by multiple managers. Purchase order process starts with a requester providing a vendor information, prices and descriptions with a couple of clicks and submitting for approval.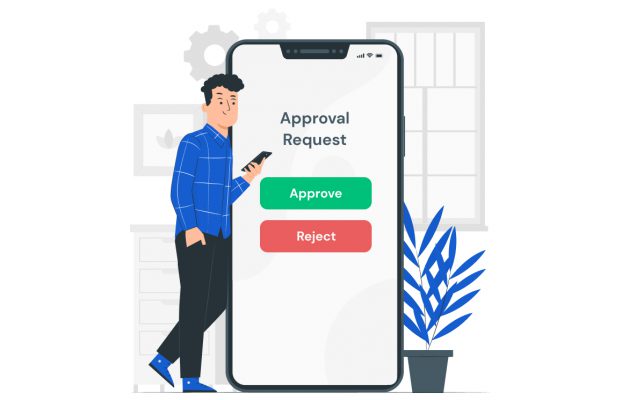 Automated Reminders Keep Approvals Flowing
In short, PO Approvers simply receive a notification and approve or deny based on the criteria provided.
With a digital purchase order process like the other approval processes Kianda offers, stakeholders can receive automatic, scheduled reminders. With this useful feature, purchase order requests don't go unnoticed, allowing you to keep on track with all purchase order requests.
Scheduled reminders notify approvers of when they need to approve or reject automatically. Above all they can do this from anywhere using an intuitive interface.
In addition, this process includes supplier's an invoice step to allow matching PO number with invoices received. When you approve a purchase request, the supplier can be notified automatically if you choose to.
As well, you can easily keep PO PDF and any related documents centrally available from a process.
PO documents can be stored in multiple systems like SharePoint, Dropbox, file shares and more. Because files are stored centrally within the process it makes it easy to find them when needed.
Your supplier will be able to upload their invoice and any other documents linked with the PO process. Your team will then have available a single view of a supplier. As a result, you can view expenditure by account easily.
Once approval is complete your finance team receives notifications and reminders proceed with the payment.
Automated Purchase Order PDF Generation
This process focuses on the approval and PO PDF generation. Vendors and internal users are guaranteed to always receive a PO PDF that looks consistent and matches company branding.
With PO software, you can fully customise the look of the PO PDF at any time, allowing you to suit the need of vendors. 
A unique PO number is generated per request and is customisable. This can follow advanced rules for generating  PO numbers. The Purchase Order Process we describe here covers all the aspects linked directly with the PO PDF.
For a process that covers a wider range of areas like vendor selection and management to delivery confirmation check-out our procurement process.