Have you been using SharePoint Workflows? Then, you must have heard by now that SharePoint 2010 Workflows are being retired.
This has been part of discussions for a while now. Microsoft has officially confirmed in early July 2020 that SharePoint Online 2010 workflows are being retired by 1st November 2020.
Couple of questions that comes to any IT Managers' mind who is using SharePoint workflows:
What does this mean for me and my organisation?
Am I prepared for this; do I have a back-up plan to migrate from SharePoint 2010 Workflows?
So, what is actually happening with SharePoint Workflows?
And it doesn't end here. Furthermore, Microsoft has indicated that SharePoint 2013 workflows will also be switched off for new Office 365 tenants. That is, from November 2020. With that, they mentioned that SharePoint 2013 workflows will follow a similar retirement path in the future.
So, if you're going to migrate your SharePoint workflows, it would be smart to include 2013 workflows as well in your migration project.
What's a SharePoint workflow anyway?
A SharePoint workflow is a pre-configured application that streamlines a business process. SharePoint workflows can range from collecting signatures, feedback and approvals for a document. Or, a request to tracking the current status of a routine procedure.
Overall, workflows are automated flows of requests through a sequence of steps that require actions or tasks from individuals. Simply, to manage a business process.
In a nutshell, workflows take care of things related to people, systems and processes. More clearly, they take care of things behind the scenes. Therefore, making your work easier and giving you time to focus on more valuable tasks.
Some of the out-of-the-box workflows that will be impacted:
Approval workflows: This workflow is to send an item or a specific document for approval.
Three-state: This workflow lets you track progress to track a high volume of issues or items, such as support issues, or project tasks.
Collect Feedback: This workflow is to send a document or an item to people for feedback.
Collect Signatures: This workflow routes a document to people to collect their signatures.
What should I do now to migrate my SharePoint workflows?
If you have been using SharePoint workflows for your business processes, there's a couple of paths you can take.
I will focus on two of them here.
1- Migrate to Power Automate
There is Microsoft Power Automate available to you and it connects to most of the Microsoft 365 services. Subsequently, allowing you build enterprise custom workflows.
However, Microsoft Power Automate does not come as "flexible" as you might think.
It is a good solution and comes as "low-code" option for software developers to create workflow solutions with it. Power Apps borrows from app development paradigm which can be quite confusing for non-developers.
As said, you will still need to invest in software developers or expert partners. That is, to make these workflows fully reflect your unique business requirements.
If you are looking to implement end-to-end business processes you will face limitations.
For instance, you will need user licenses for multiple platforms to build end-to-end solutions. Licenses such as Power Apps, Power BI and Flow so you can you can fully leverage Power Automate.
As a result, you will incur additional costs and further integration work to make the system fully function for you.
Second option you have, is to use a modern workflow automation platform for migrating from SharePoint workflows.
More clearly, a platform that can seamlessly integrate with SharePoint. Precisely a platform that empowers non-developers such as business users, knowledge workers to take the lead and create intuitive workflows within hours (not days or months). Connecting to your SharePoint data, 0365 users and your currently analytical systems.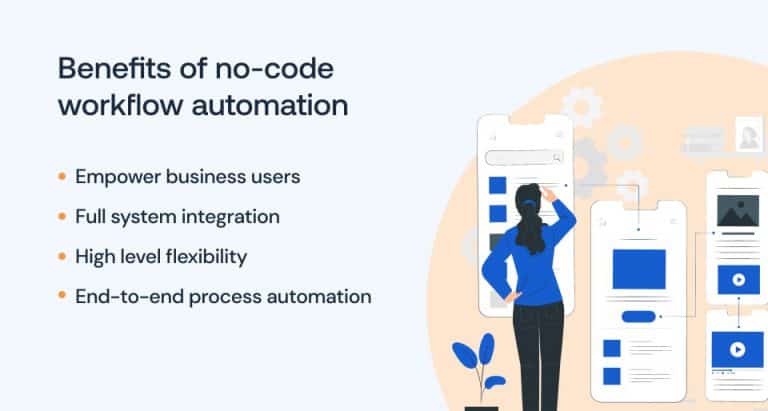 Workflow automation platform such as the one Kianda offers, is a standalone system. Meaning, the system does not require SharePoint or other Microsoft tools for it to operate. But, most importantly it can integrate seamlessly to most of the Microsoft systems.
In doing so, your cost will be based on licensing of a single platform. As well, the time your internal staff will spend on creating these workflows and successfully migrating from SharePoint workflows.
As a result, while migrating your legacy SharePoint Workflows into a modern workflow automation platform, you will also increase productivity and reduce your costs.
And let's face it. There is not enough IT talent available. So, why not leverage your current staff who can actually be part of your IT projects such as this one.
Business users can actively create complex workflow automation solutions for your business without writing a single line of code.
If you are looking to migrate your SharePoint workflows you can talk to our experts to discuss what options you have.
At Kianda we help business users technical or non-technical to create enterprise technology. Simply, by providing them easy-to-use no-code platform to create intuitive workflows.
Above all, Kianda seamlessly integrates with SharePoint and many other IT systems such as SAP, O365, Oracle, SQL server, File systems and more.