Investing in fixed assets has a strong impact on both short and long-term financial standing of a company. Therefore, managing capital expenditure / CapEx approvals requires enormous effort and attention to detail to avoid errors. 
Many organisations hesitate when it comes to investing in new and advanced systems for operational activities. This is simply down to trying to "cut costs" and avoiding spending. Even for good reason.
However, investing in software that allows the capital expenditure approval process to operate effortlessly does wonders. And, this investment actually contributes to less cost. And more profitability in the long-term.
It is critical for businesses to use appropriate guidelines and tools to carry out efficient financial analysis. And subsequently, finance and budget approvals. In other words, capital expense management can be much more expensive and complicated than necessary. That is, when using insufficient systems or methods. 
Capital Expenditure commonly known as CapEx or CAPEX is the expenses needed for businesses to either acquire or maintain their fixed assets. This includes fixed assets such as land, plant, machinery, equipment and so on. 
Operational Expenditure / OpEx on the other hand refers to the funds needed for day-today operations of a business. This might include rent, lighting, inventory and other utilities for instance.
CapEx and OpEx appear to be terms that are frequently confused by people. They both relate to required funds. But, they distinguish between type of expenses.
If so, keep reading and find out how you can digitise your capital expenditure workflow and easily speed up budget approvals!
COVID-19 is accelerating digital transformation
However, with COVID-19 in mind, accelerating digital transformation is becoming the norm. That is, for business survival and to continue to grow throughout these uncertain times.
A recent article by Silicon Republic highlights a significant benefit derived by those who have digitally transformed their business. Moreover, the organisations who have mostly embraced digital business technologies. This competitive advantage simply wins against their competitors. 
Challenges of manual management of capital expenditure approval workflows
Today, many organisations still largely rely on manual methods to carry out CapEx approvals. Unknowingly, they enable the business to fall victim to many potential issues. More clearly, to problems that revolve around the drainage of business resources.
From lost time to lost CapEx requests, organisations tend to look for ways to cope with the issues that arise with manual budget approvals. That is, to compensate for the lack of efficiency. 
Certain issues that often erupt with manual CapEx approvals:
– Low visibility and transparency of requests and approvals
– High % of errors, duplication of data or missing data
– Inaccurate budgeting and forecasting
– Unauthorized spending, over-spending and loss of profit
– Missed deadlines, projects not being closed and new projects being opened
– Inefficiencies and bottlenecks in approvals
What is the meaning of CapEx software?
A capital expenditure workflow software is specially designed to allow the budget approval process to flow quickly and smoothly. And, without incurring any inefficiencies throughout.
Capital expenditure software aims to digitse CapEx workflow. It enables businesses to standardize, track and approve requests, all in a single platform. Using an automated capital expenditure workflow helps speed up requests and budgets approvals while aligning with strategic goals.
Digitalising CapEx approvals helps reduce cost, save time, enhance productivity and improve profitability. Overall, a digital capital expenditure process capitalizes on the saying "work smarter, not harder".
As previously mentioned, manually handling your CapEx approvals is an insufficient method. Additionally, tedious manual work threatens the quality of the process. Not to mention, these challenges unavoidably have knock-on effects on the entire business. 
In short, the adoption and implementation of a potent CapEx approval workflow software is simply to mitigate risks. Particularly, risk associated with a manual capital expenditure workflow.
Replacing your inefficient CapEx approval workflow with a robust workflow software like Kianda will not only tackle challenges above. But, will derive substantial benefits for your organisation.
Benefits of using CapEx software to manage budget approvals
In order to meet expected end year financials, capital expenditure budgets are set in place. 
Using CapEx software helps businesses to align with these strategic goals. Simply, by accurately managing capital spending.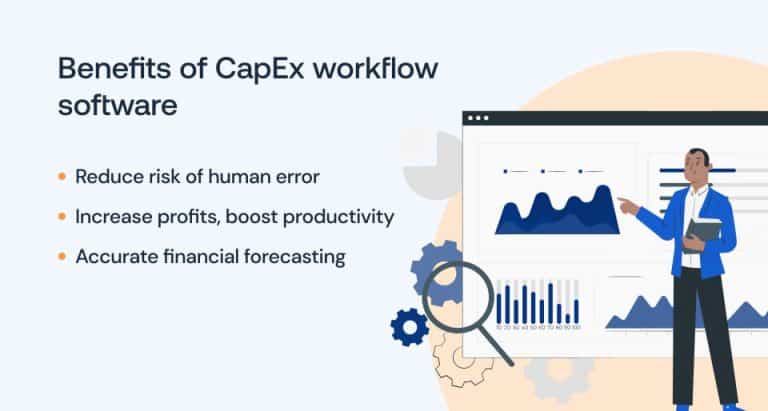 With thorough insight into budget approval, it is easier to set realistic financial forecasts. And, it is easier to meet and achieve those objectives and goals. Specially in terms of profit and business growth.
Let's have a look at the benefits of using a business process automation platform for CapEx approvals.
CapEx software minimizes risk of human error
A major driving force to implement an automated capital expenditure solution is to slash risk of manual error. Way too often, mistakes can happen whereby requests and budget approvals are routed in the wrong direction. Because of this, requests can regularly go unanswered. As a result, delays and bottlenecks occur in capital expenditure processes.
Additionally, many projects can easily get lost. So, new projects open while teams are unaware or forgot to close 'lost' projects. Before you know it, the previous requests are completely hidden. On the other hand, fixed assets are critical for businesses to operate. As an example, not completing approvals for integral components of a critical production line is dangerous for business. Simply because, it can cause defects and errors in production and operations. 
With a digital capital expenditure workflow, all data is centralized in a single system.  This offers visibility and transparency to all stakeholders involved. As well, you can send automatic notifications and reminder alerts to stakeholders. Simply, so they approve requests on time.
As a result, you will never miss a deadline and you can minimize back-logs in requests. Moreover, completing all CapEx approvals on time allows business to run smoothly. For example, a critical piece of equipment could need maintenance or replacement. So, an employee raises a request. Automating the capital expenditure workflow ensures that this request is sought to. 
Automated workflow assists in providing accurate and realistic financial forecasts
When budget approvals are not completed on time or they simply get lost, it is a difficult process. For instance, it is hard to include their expenses when undergoing capital expenditure budgets. More importantly, this can result in inaccurate representations of capital spending. These capital expenses are not accounted for in budgets and can initiate overspending. 
Consequently, transparency lacks into the short-term financial standing of the company. And therefore, financial planning and long-term strategic goals become a complex process.
Abandoning manual CapEx approvals and digitally transforming them makes budget approvals seem like a breeze. With higher visibility, business process automation assists in greater control. Particularly over capital spending and budgeting. You can easily track and manage budget approvals. That way you can ensure budgets align with financial plans. And that is without being bombarded with unanticipated expenses. And, or emails with queries.
A digital workflow increases productivity and profitability
Workflow automation increases the pace of routing requests and approvals. Overall, it gets the job done fast and efficiently. Many potential issues can arise throughout capital expenditure approvals when using spreadsheets and emails. Consequently, the process of CapEx approvals pause at many stages. Manual errors in the life cycle of any process drive down productivity.
As well as that, many organisations just accept these faults in their traditional CapEx approval processes. They then end up devoting more time and money to overcome them as they occur. Rather, they could look for a win-win solution. One that avoids negatives and brings positives.
Automating capital expenditure workflows focuses on preventing disturbances in the CapEx request/approval life-cycle. By simply eliminating errors from arising, the process is already much faster than before. Then, preserved time can also be dedicated to completing more budget approvals. That way, a lot more capital expenditure work is being completed rapidly. Ultimately, scaling both productivity and profitability. 
It is time to leave manual re-work behind you by digitally transforming your inefficient capital expenditure approval workflow.
Why you should automate your CapEx approval workflow
Investing into a state-of-the-art business process automation platform will help you digitally transform your financial approval processes. For the better!
Hassle free capital expenditure management doesn't only aim to save time and costs. But, it makes employee work that bit easier and less stressful. Budget approvals and financial analysis require careful consideration. In which, only passes on pressure to employees.
Automating CapEx approvals simply relieves this pressure. Simply by tackling any challenges caused by manual budget approval workflows. Providing an easier method for CapEx approvals is not only beneficial to your employee. But, it is a key contributor to quality in your business processes.
Easing the capital expenditure workflow with digital tools allows employees to pay less attention to "preventing human error". But, more attention on completing financial approvals with quality in mind. And, at a faster pace.
With CapEx approval software, employees can sharply get their work done. What's more is that they can do it without feeling strained or burdened.