Ensure quality, health, safety and compliance with a digital maintenance checklist form. Submit regular reports and keep your buildings, facilities, equiptment and other assets up-to-date with an effective maitenance app.
Manage your
maintenance checklist

on the go
Ensure that necessary tasks are completed efficiently for inspection and maintenance of a piece of equipment, a production line or a facility by transforming your inefficient paper and excel-based maintenance checklist into an effective maitenance app. Digitalise your preventive maintenance checklist to ensure completion of tasks and establish high standards of quality, health and safety.
Capture key details with digital maintenance checklist
Promote the high levels of quality, health and safety by capturing key details and reporting quickly and proactively. Secure critical information and track via your maintenance checklist app to ensure buildings, sites, facilities and equiptment are preserved.
Conduct tasks on-the-go, at any time, anywhere
Bring your "office" on site by conducting checklists on your mobile, tablet or laptop using your maintenance app. Collect and store data in real-time by submitting forms online or offline, at any time and any place.
Easily attach and submit photos via maintenance app
Quickly and easily attach and submit photos and documents related to the outcomes. Generate PDF documents to retain proof of critical errors to implement correction action and prevent re-occurence of issues.
Obtain digital signatures and improve traceability
Obtain digital signatures to verify responsibility and traceability when carrying out inspection and maintenance tasks. Use a preventive maintenance checklist to minimise repeating errors that affect preservation.
Reduce paperwork and minimise risk of human error
Eliminate manual re-work, errors and data losses by optimising your maintenance checklists with digital forms. Maintenance app guarantees a safe and secure location to store vital data and information.
Ensure compliance, health and safety with audit trails
Accurately collect, report and track pivotal information that determines the quality, health and safety of your sites, warehouses, machinery or products by using a limitless maitenance app, customised to your requirements.
Maintenance checklist
form template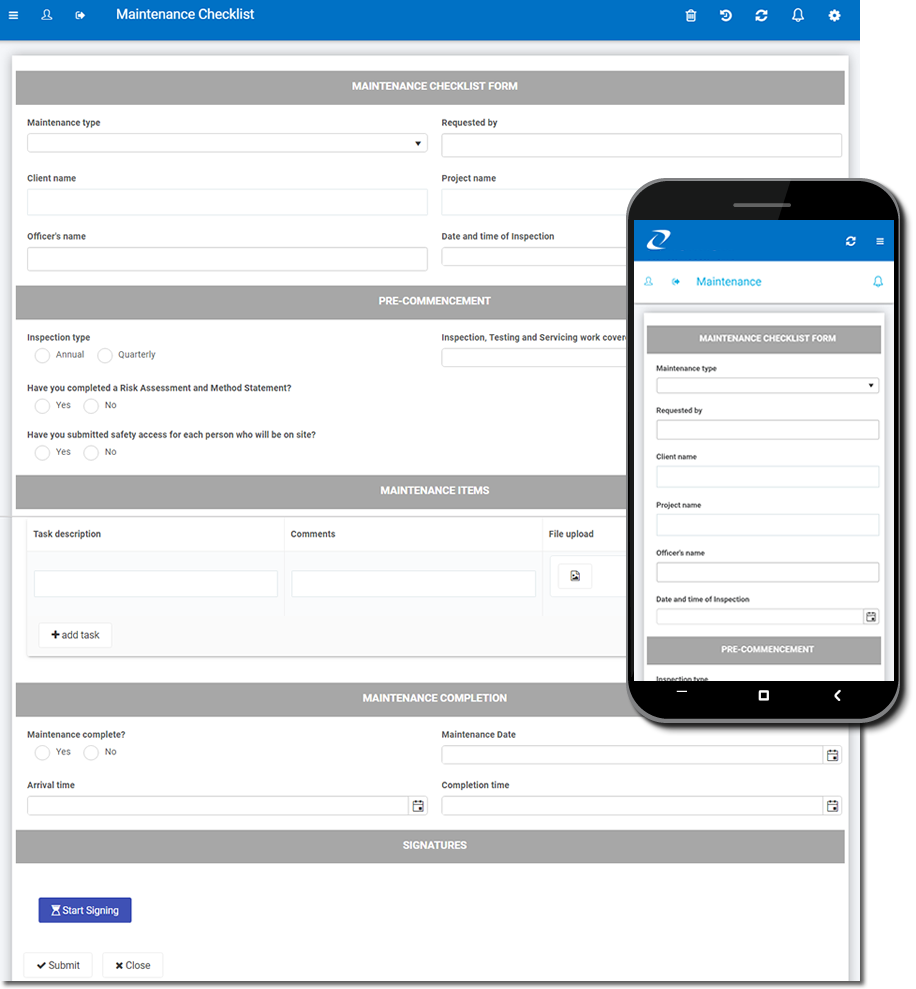 Get the maintenance
checklist app


and make it your own
We know that you have precise needs to implement a specific type of maintenance strategy; this is why our forms are easily customisable. Create and tailor your own maintenace checklists, re-use templates, and generate reports to make sure that all important data is captured efficiently. Instead of acting reactively, act proactively with an easy-to-use preventive maintenace checklist.
Frequently

asked questions (FAQs)
No it will not. Our licensing fees are based on number of users who are building workflows and interacting with forms. You can add unlimited forms or workflows as you need without any additional charges.
Yes, we provide application support. Additional custom solution support is also available on demand for helping you to build tailor made solutions. available on demand for helping you to build tailor made solutions.
When you register for a live demo, we will contact you shortly to book a convenient time for your demo. You will get answers to your unique questions and find out why Kianda is the right choice for you.
You won't need to have programming skills or hire developers to customise forms. When you first start watch the training videos to help you get going. Our support is also available to assist you.
Yes absolutely. You can add as many users as you wish. You can simply get in touch with us at info@kianda.com to discuss what options are available to you
Yes, with Kianda you can build workflows that are made of multiple forms (workflow steps) allowing you automate your business pocesses from the start to the end.
See similar
quality control forms


that you can benefit from
Easily and quickly create bespoke forms, workflows, web applications and automate business processes with the easy-to-use, drag-and-drop designer and review data instantanly with customisable reporting dashboards.
Quality Managers, Quality Engineers can easily implement online site inspection checklists instead of traditional, manual pen-to-paper checklists.​

Ensure quality, H&S compliance, improve visibility, documentation, accurate reporting and prevention by tracking key metrics and effectively capturing all accidents/ near miss events etc​.
Kianda empowers construction companies to automate business processes from the ground up, removing paper, improving process visibility, managing suppliers and a lot more.
Organisations easily report
and protect with Kianda
World leading engineering company DEME uses Kianda to optimise quality management to ensure compliance and safety

Global Dredging, Environmental and Marine Engineering company used Kianda's no-code/low-code platform to optimise their quality processes such as observations, inspections and incident reporting.

Resco selects Kianda as their preferred no-code development platform after trialing 86 other platforms

US manufacturer Resco Products selects Kianda no-code platform as the best match following an analysis of 86 top platforms to structure their data, replace cumbersome legacy tools, digitalise manual processes, automate their approval processes and overall improve business process management.

ATA built SAP applications 10x faster with Kianda's no-code development platform

Leading precision engineering company turned to Kianda to accelerate in-house application development and increase productivity and efficiency for their business processes across multiple departments.

Mercury connected their people through shared knowledge with innovation portal app using Kianda no-code business process automation platform

European engineering contractor, Mercury leveraged no-code automation to speed up application delivery. The company built a custom app "Knowledge Vault" with a purpose to connect their people and allow them to share their knowledge in a "media-rich" way on-the-go.

Construction company Lagan digitally transforms inefficient data collection processes into rapid, streamlined workflows

The company has built several workflows that allow accurate site management, data-collection, easy reporting, and effective collaboration with third-party employees using the Kianda no-code development platform.

Gulbenkian Foundation deploys a rapid returns process to tackle mass ticket cancellations due to COVID-19

Thousands of tickets had to be refunded. Manually managing these returns processes would take weeks or months. Instead, Gulbenkian Foundation built an application using Kianda's no-code technology and delivered an end-to-end digital returns process in 24 hours.

Mercury Engineering optimises project approval process with Kianda business process automation platform

Mercury Engineering switches to Kianda no-code platform and improves their project approval process, enhancing compliance and keeping knowledge in-house.
Accelerate digitalisation to deliver an impact today
Want to know how Kianda no-code business process automation platform can help accelerate your digital transformation journey.