Digital technologies such as procurement software are becoming more widely used to carry out procurement process. However, some are still stuck using outdated methods for procurement management.
Is your procurement process slowing things down?
Are you using traditional ways to manage your procurement process?
If your answer is yes then, it is time to boost your buying steps.
The digital revolution has started to disrupt the procurement process in the last couple of years like many other business processes. For example, 85% of executives believe that digital transformation will alter the very fabric of their purchase process. However, only 32% have a digital strategy in place.
In the past, the procurement process only took care of the nuts and bolts of resourcing. But, technologies and automation have made it a profitable strategy that empowers C-suit decision-makers. 
Managing procurement effectively can create market visibility, minimize supply chain risks, and deliver cost savings.
What does procurement process mean?
In the simplest terms, it's the buying of goods and services. However, it includes all processes from purchase planning to value analysis.
The procurement management must achieve a profit on resale. And to do so, it must source finance cheaply and negotiate intelligently.
The old incarnation of procurement management could succeed simply by operating more cheaply than the average business. 
On the other hand, today's standards are higher. Although world-class procurement departments operate 20% more economically and employ 27% fewer employees, that's no longer enough.
What does procurement process mean in the modern era? Sometimes, intelligent spend management. Other times, often supplier sourcing, but always digital strategy.
What are the steps in procurement process flow?
Overarching procurement process flow can be broken down into: procurement process, systems, people, and paperwork.
Overall, the procurement process flow entails broader tasks such as ordering, payment fulfilment, and receiving.
Focusing on the procurement department tasks, procurement process flow includes eight purchasing steps: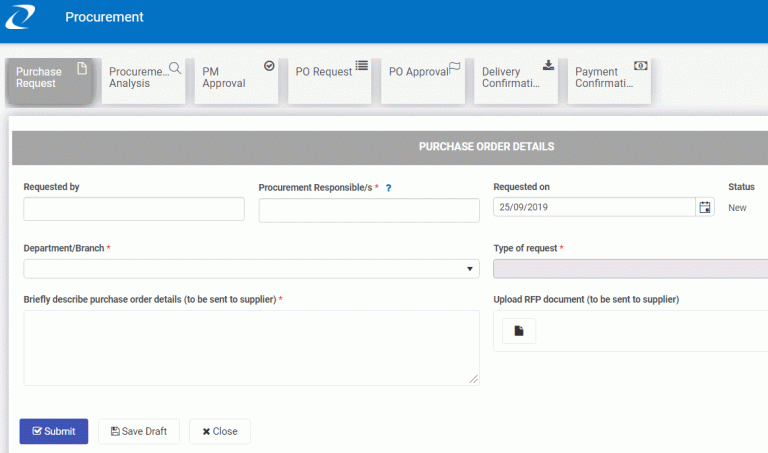 Why automate your procurement process?
Excel spreadsheets and emails belong in the old age with paper documents. Meanwhile, procurement software can convert manual tasks into automated processes. Simply, by providing automated workflows that don't require human intervention. As a result, repetitive events can automatically up-scale.
The procurement cycle can, and should, be digitalised. Not only to help you refine your strategy. But, to automate it and generate a set of analytics to assess its efficiency.
Procurement software can include all the steps you've always used in your current procurement process. There is no difference in procurement, whether you're using digital or manual processes.
Certainly, there are distinctions though, efficiency and transparency changes significantly. In other words, automating repeatable tasks cuts the risk of human error.
It can also reduce steps in the procurement process flow and speeds up interactions. But, you remain the brain behind your strategy. For instance, you make the rules. You edit your workflow according to your decisions.
Gain visibility and increase transparency
Another important reason why to automate your procurement is to gain visibility.
It can help to track the way your buying department manages their part of the entire procurement management. As a result of digital procurement in business, the procurement meaning has evolved intelligent spend management.
Intelligent spend management is transparent more than ever before. Most certainly, thanks to digital workflows.
Communication is key for an effective procurement management
Collaboration with suppliers is very important. For instance, certain steps that should be involved can be made accessible to suppliers when automated.
Enhancing communication is key. This way, everyone from the procurement team to suppliers can give you input on a single platform. In short, the automation of the procurement management promotes more effective standards of communication. 
Using a digital procurement management system contributes to your paperless office, keeping your documents in one place. Procurement documents define contractual relationships. While automation helps to prevent important losses, keeping all your contracts in the digital sphere.
Procurement Software and Tail Spend
Small purchases tend get neglected, thanks to resource-heavy, manual work.  So, to fix the problem, the procurement process should engage with suppliers. They can do this by amplifying transparency and optimising inventory.
Monitoring key performance indicators, risks can be identified and procurement management strategies can be refined.
The procurement management system should monitor:
What to look for when comparing procurement software 
Automating the procurement process can be efficiently achieved. Digital process automation is the obvious driver of improved metrics, but the analytics themselves are still a crucial ingredient.
They can be used to forecast future crises and optimize vendor evaluation. In addition, they can improve invoicing procedures and predict demand.
Process automation software gives flexibility in terms of tailoring a process according to your organisations unique needs.
When comparing procurement software options, you should look out for several features when carrying out comparison analysis. 
Here is a list of what to look for:
> User-friendly customisation and scalability
> Accessible data and analytics
> Easy reporting
> Available in multi-devices
> Automated reminders and notifications
> Easy, multi-layered approvals
> Budget control
> Providing suppliers instant access for their input
> Data integration with existing systems
The modern procurement process no longer fears risks – it predicts them.
Procurement process is constantly evolving, and metrics help it to advance. Moreover, procurement software de-clutters your process steps and improves transparency throughout your entire procurement process flow. From this, you gain control over the entire procurement management lifecycle.
As a result of using digital procurement providers like Kianda, the procurement process in business definition has transformed.
Procurement in business has become more complex, but that's a boon rather than a bane. Furthermore, procurement has never been this scalable or innovative. That is, thanks to technology, and it's put CTOs on the map.
Are you looking to boost your procurement management?
Discover how you can reduce risks and bring efficiency to your procurement management. Kianda Procurement Software is designed with our experience and best practices in mind.
Good news is that you can tailor all the pieces of our procurement software to fit what your organisation needs. Meanwhile, remember you do not need to hire developers to manage the software. Anyone with or without programming skills can create business process solutions with Kianda.