Everything you need to know about EHS Software
If you are in the market for a new EHS (Environment, Health and Safety) Software solution, you have probably been given the responsibility of elevating your organization's safety program and culture. Given its evident connections to risk management and liability reduction, most organizations have recognized EHS management as an integral part of good overall business management. 
If you are looking for an EHS software solution that combines all of your EHS management needs into a single system, but you're not sure where to start, this post is for you. It defines EHS software, explains the benefits of these systems, describes the different types of EHS management software and provides insight on how you can select the right one. 
EHS software is a tool that provides your business with a digitised platform that integrates all safety management tools and procedures into a single system. EHS management software is widely implemented in the construction, engineering, and other industries. 
Implementing EHS Software provides your company with a guideline for successfully controlling and eliminating incidents, workplace hazards, and accidents while boosting productivity. Also, it contributes to the development of a secure and cooperative work environment in which all team members can succeed.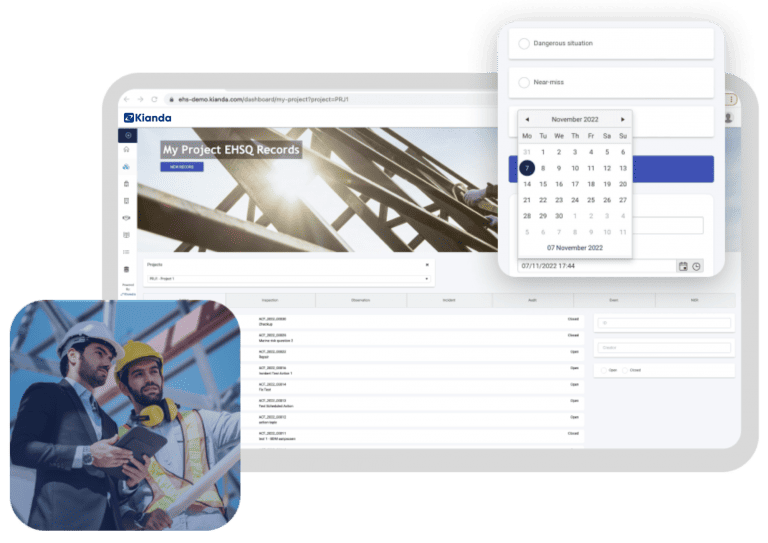 The EHS software integrates all your team members by providing a centralized database for operation forms, checklists, audits task details, incident reporting, audit management, key EHS performance metrics, and more. Because of this, it's much easier to keep track of how well your metrics and systems are doing and make changes as needed. 
So, the main goal of an EHS platform is to put all of the data related to these tasks and activities into a single system so that performance and risk insights can be properly evaluated and fixed, improving the company's overall success and operational efficiency 
What are the benefits of EHS software systems?
EHS software has many benefits, but the most important is that it can keep everything in a single system. It connects your field and office workers by collecting and storing important documents, task information, key EHS performance metrics, audits, reports, checklists, and more in a single system.  
Creation and distribution of safety plans, monitoring regulatory compliance, and logging events and risks are also processes that may be automated with the use of a health and safety software. By doing so, it significantly reduces the amount of time that manual processes wind up requiring and the likelihood of errors that come with them. 
Improved compliance: It can help ensure that your team is compliant with relevant health and safety regulations, reducing the risk of fines or penalties. 
Increased efficiency: can automate many health and safety tasks, such as incident reporting and risk assessments, reducing the workload on your team and improving efficiency. 
Improved communication:  can facilitate communication between different departments or teams, ensuring that everyone is aware of potential hazards and potential actions to be taken. 
Better data tracking: it can help your team tracking and analysing data on health and safety incidents, allowing you to identify and address potential problems more effectively.  
Improved reporting: it can help you generate reports on health and safety performance, allowing you to demonstrate your commitment to health and safety to stakeholders such as employees, customers, and regulators. 
Any team member with access to the company's EHS Software can upload data at any time, and it is saved on the software's cloud. This information could be about near misses, behavioural safety, workplace hazards, safety incidents, or anything else related to health and safety. 
When it comes to Kianda EHS Software, your field workers are given the ability to easily prepare for in-depth audits and inspections and carry them out from mobile, laptop, or tablet devices by utilizing the audit planning and management module that is included with Kianda's EHS Software. 
It can also notify qualified personnel when a task is due. They can, for example, send an alert when tasks go unfinished or metrics reach a certain threshold, prompting the appropriate parties to act. Additionally, it can send email alerts and reminders to improve work completion.  
Businesses that work in remote areas or places with limited network access can do audit or other EHS tasks from anywhere at any time because they can be done offline.  
Offline capability

feature is critical when selecting an EHS software.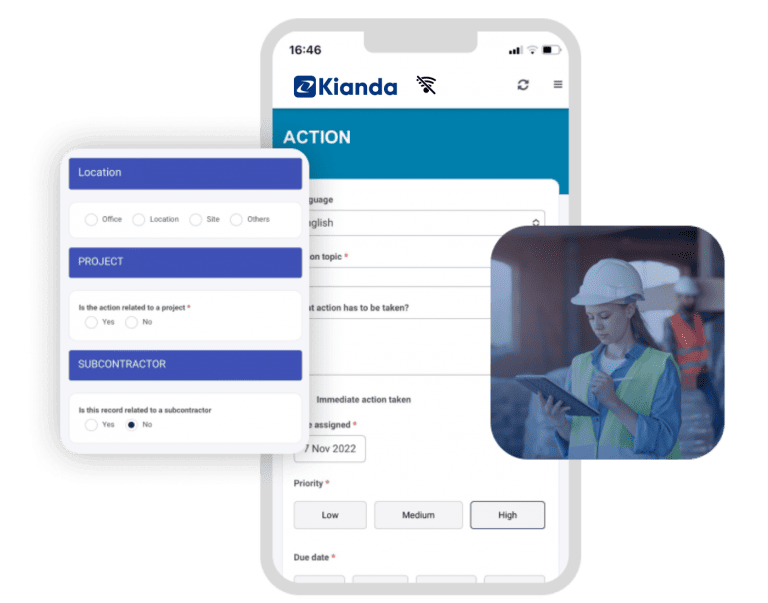 In a recent report where Kianda was included, one of the critical factors Forrester recommends considering when evaluating industry-specific technology solutions is whether the solution will provide specialized capabilities. 
Forrester mentions that specialized solutions often include critical capabilities that may not be found in generic platforms. "For example, solutions that must work in no- or low-bandwidth environments like construction and engineering require robust offline capabilities." 
"Many solutions do not allow people to run operations while offline. They revert to paper to do it later in the office." (Kianda; Forrester report, Low-Code Platforms Are Going Vertical, November 10, 2022). 
Unless you have a robust mobile and offline capabilities available in your EHS software, there is strong possibility that you are going through the same problem as well. 
Unless you have a robust mobile and offline capabilities available in your Health and Safety software, there is strong possibility that you are going through the same problem as well.
With Kianda EHS Software you can review, submit all your EHS data, perform inspections and record events in real-time and on the go whether you have internet connection or not.
How much does EHS Software cost?
The cost of EHS Software can vary widely from one provider to the next, as can the method by which it is implemented. Some EHS software can be accessed online and paid for on a subscription basis, while others must be downloaded and installed. 
When deploying on-premise EHS software, you can implement the software on your own server and have your IT department manage it. This comes with a large upfront investment, limited accessibility options, and labour-intensive maintenance, upgrades, and customisations that may deter you. 
As opposed to on-premises EHS software, cloud-based EHS software is taken care of by the service provider. 
This type of EHS software provides you with adaptability, flexibility, security, and accessibility to guarantee that EHS data is always accessible to all your team members, whether on your laptop, tablet, or mobile. Additionally, it is typically more accessible, user-friendly, and cost effective. 
The true cost is determined by a variety of factors. As previously stated, there are various types of integrations, as well as various types of software: There are two types of EHS software: custom and off-the-shelf. 
Customized EHS software is usually more costly than off-the-shelf software. In addition to improvement, you will also need to consider implementing new features, fixing errors, and maintaining the system. 
Even though setting up EHS software can be time-consuming and expensive at first, if you do it right, it can help you meet every unique challenge that your safety processes present, giving you a competitive edge. 
Off-the-shelf software, on the other hand, is usually more cost-effective. It is developed and designed for generic use while taking into account all safety aspects in accordance with the needs of the industry. You only need to install and adapt this type of solution to your company. 
When choosing an EHS management system, it's important to do your research because this choice will affect the health of your employees and the environment, your ability to follow rules, and your bottom line. 
Because of how rapidly the market is changing, it can be challenging to keep up, make informed decisions, and rest assured that your investment will serve the needs of your business both now and in the future.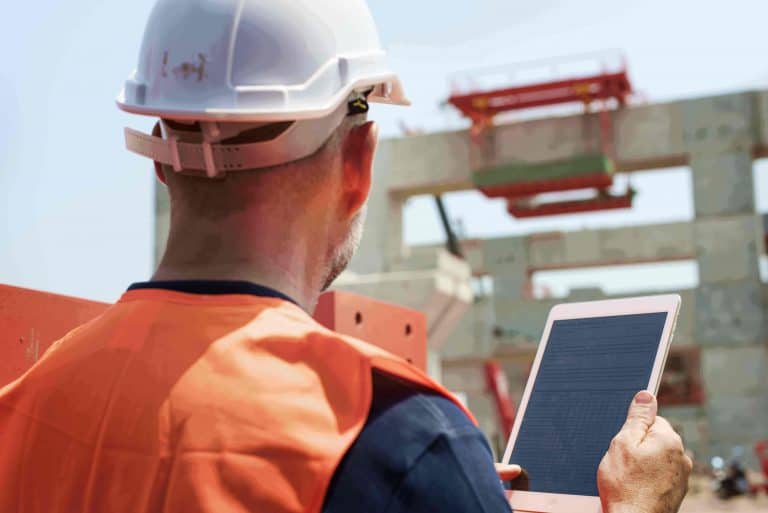 Kianda EHSwise provides the most flexible off-the-shelf EHS software solution. Being built on a flexible low-code development platform, it gives the best of two worlds. You can start using it straight away or configure it to suit your requirements.

If you are looking to invest in an all-in-one EHS management system, talk to us to see how Kianda can fit your unique requirements.