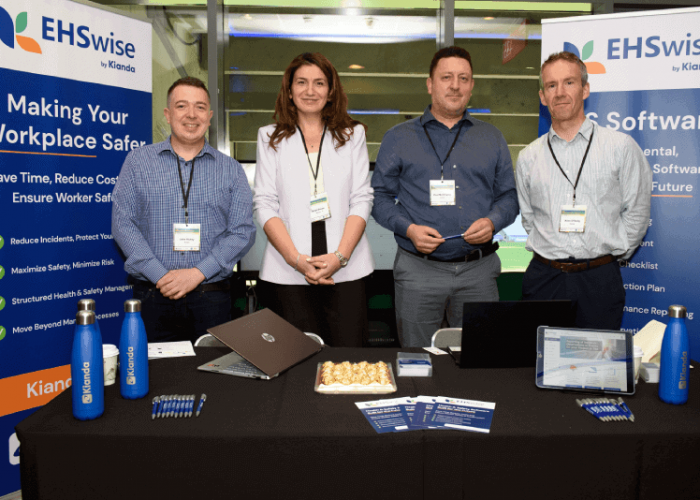 The Construction Industry Federation Health and Safety Summit was back in Croke Park on Thursday 25th May 2023 and Kianda EHSwise were delighted to be the Gold sponsor of this year's event. 
The event brought together Environmental, Health and Safety experts from across Ireland to address the challenges faced by the Construction and Engineering industries in ensuring the health, safety, and well-being of their employees.  
Kianda EHSwise had a stand at the event and it was great to talk to so many of the attendees during the day. As well as this, our CEO, Derya Sousa, gave a presentation alongside Michael O'Connor, Group QEHSS Director of Mercury on 'Health & Safety beyond Compliance' and Mercury's use of Kianda's software in their on-site Digital Kiosks for increasing safety feedback.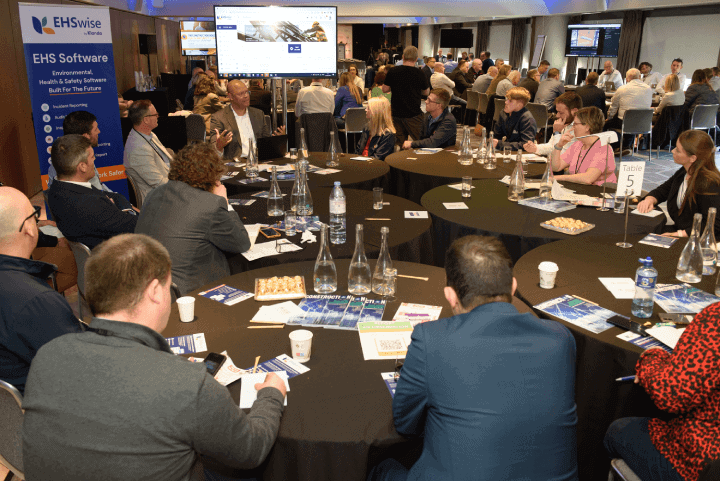 In the afternoon, Kianda's CTO, Osvaldo Sousa, held a roundtable discussion with Martin Searson, a seasoned quality expert, and over 20 industry professionals on 'The Role of Technology in Promoting Health and Safety in the Workplace'. 
Our reason to attend the event was to meet EHS professionals, to talk to them about our EHS software platform, EHSwise, and to show how EHSwise could make a difference to the lives of their employees. 
There was a range of topics discussed on the day including: 
Working at height: Raising the bar by developing scaffolding apprenticeship

 

Heavy vehicle safety: The benefits of reducing HGVs

 

CSCS Location of Underground Services (LUGS) training

 

The Construction Safety Licencing Bill: What does it mean for the industry?

 

ESG and EHS in 2023– How the EHS professional's job is changing, and why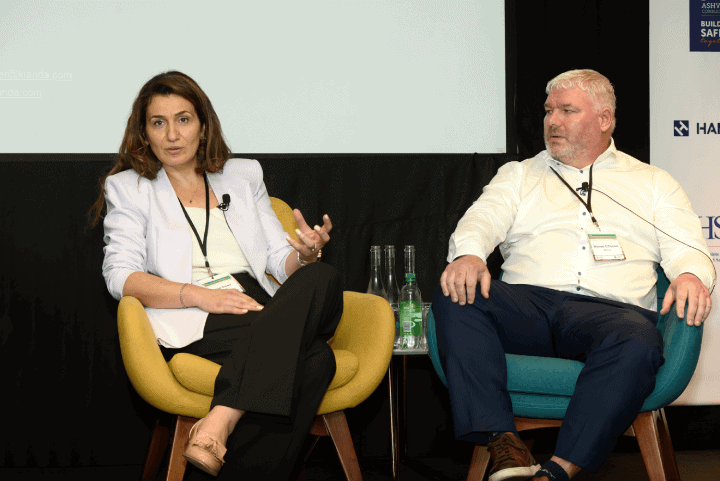 Morning Session: Health & Safety Beyond Compliance Case Study
Derya Sousa, CEO of Kianda, and Michael O'Connor, Group QEHSS Director of Mercury Engineering, took the stage to present a compelling case study on how Mercury successfully implemented Kianda's software in their Digital Kiosk initiative. This technology-driven approach aimed to enhance safety feedback and intervention on project sites throughout Europe. 
By leveraging the power of technology, Mercury streamlined their EHS management processes, reducing costs and achieving maximum efficiency.  Michael's presentation showed impressive results, including a significant increase in incident reports and check-ins compared to their previous paper-based system. 
Derya emphasized the importance of embracing innovation to drive positive change in Health and Safety practices. She answered audience questions on online capabilities, how the technology can be used as an app on a phone and is not limited to a Kiosk and how reporting is delivered.  
She also shared some practical tips and strategies to help companies embrace innovation and drive positive change in your Health and Safety practices. 
This engaging discussion was well received by the audience, many of whom later visited the EHSwise stand for further information and a demo of the software.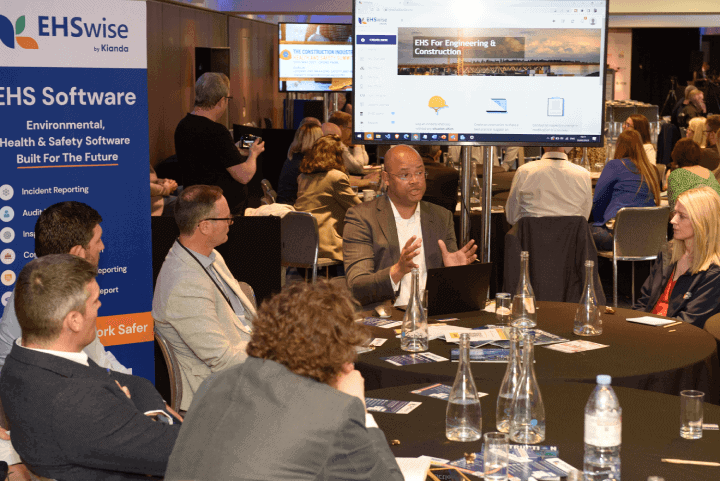 Afternoon Session: Mental Health Keynote and Technology in Health and Safety Roundtable
The afternoon session kicked off with a keynote speech by former New Zealand rugby international and commentator, Brent Pope, who talked about mental health and shared steps that the Construction Industry could take to create a safe and supportive working environment.  
Following this, Osvaldo Sousa, Kianda's CTO, led a well-attended roundtable discussion on the role of technology in promoting health and safety in the workplace. Industry experts discussed the latest technological advancements in EHS, including offline capability, mobile support, real-time data collection, and system integration. The focus was on how these advancements can contribute to creating safer workplaces and ensuring compliance in EHS processes. 
EHSwise – Environmental, Health & Safety Software
Kianda EHSwise took centre stage throughout the event, showcasing their EHS software solution tailored to the Construction Industry.  
Our user-friendly platform and modules such as Digital Checklists, Observation, Incident Reporting, Audit Management, and Lessons Learned, simplifies compliance processes, eliminates paper-based tasks, and protects workers. 
The Impact of the Health and Safety Summit
The Health and Safety Summit was a resounding success, bringing together industry experts, thought leaders, and solution providers to address the pressing challenges in EHS.
Kianda EHSwise played a significant role by sharing insights on how technology can revolutionize EHS practices, the importance of innovation, collaboration, and prioritizing the well-being of employees in the construction and engineering sectors. 
EHSwise - Making your workplace safer. Maximize Safety. Minimize Risk.
Improve your organisation's EHS performance, reduce incidents and ensure worker safety with modern and customisable software.
Find out how EHSwise can bring Safety Excellence to your organisation.