Are you managing your site inspections with Excel sheets?
Then it is time you consider digital site inspection checklists to ease this process for you.
Many inspectors, auditors or site managers use traditional ways to run their inspections jobs. Hard to manage paper forms, emails and scanned documents with signatures can easily become a cumbersome work…
Modern technologies that are available today, have made it far more efficient to capture and track site inspections. From scheduling a visit, sending automated alerts to capturing information and pictures. As well, with online forms you can easily generate rich PDFs, on the go…
First of all, let's have a look when site inspection checklists are used.
Construction, engineering and industrial companies are required to keep sites, staff and assets safe. And to make sure they are working according to regulations. For this purpose, an inspector visits a site and runs inspections to go through defined checklists. Simply, to assess risks and to report their observations.
These checklists are defined based on the type of an inspection. For example, is it an internal inspection or an external one for a client? Or, is it a scheduled or emergency one and so on…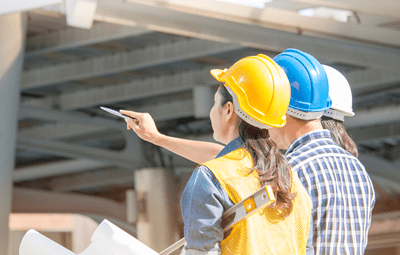 What are the current challenges companies are facing today when it comes to managing their inspection jobs?
There are three main challenges companies are facing regularly:
1 – Managing site inspections with paper forms
Main challenge here is to manually complete large numbers of questions in paper checklists… Scanning these checklist paper forms or re-typing into a spreadsheet. Then, uploading and emailing them, back and forth.
If an inspector has to rely on paper forms and documents for their job, then this becomes a complicated process. One that can increase compliance risks.
An inspector needs to make sure that they have all the right tools and documents they need before their visit. Moreover, during their visit they need to make notes of all their observations.
Using paper forms means when they go back to the office. That is to scan documents, and even sometimes re-type all the info. And, all of this take up a lot of valuable time.
2- Document management and unreliable reporting
Pulling together an inspection report can be extremely time consuming. Conventional ways require an inspector to re-type the captured information in spreadsheets and reconcile them. Subsequently, this can take long time and much effort.
In addition, this data will need to be transformed manually into graphs and charts to achieve insights. And this is not ideal…
One of the key aspects of managing site inspections is making sure that there is accuracy on reporting.
It can be frustrating for everyone involved in the process if the reports are not reliable.
3- Not being able to handle pictures and signatures on the go
Traditionally, an inspector would take pictures on site. Then go back to office download these pictures and store in company systems.
It can be time consuming trying to attach the right pictures to the right logs within inspection reports.
Simplify site inspections by taking as many pictures you need on the go.
Traditionally, an inspector would take pictures on site. Then go back to office download these pictures and store in company systems.
It can be time consuming trying to attach the right pictures to the right logs within inspection reports.
Similarly, when signatures are required from clients, subcontractors or owners, they are often taken on papers. Then, scanned back in the office. This whole process can be slow, error-prone and not easily accessible for searching.
To modernize your site inspection checklists, you should consider going mobile and paperless. That is, for higher control, compliance and simply for faster outcomes.
Here are 4 important tips on how you can transform site inspections and ease the process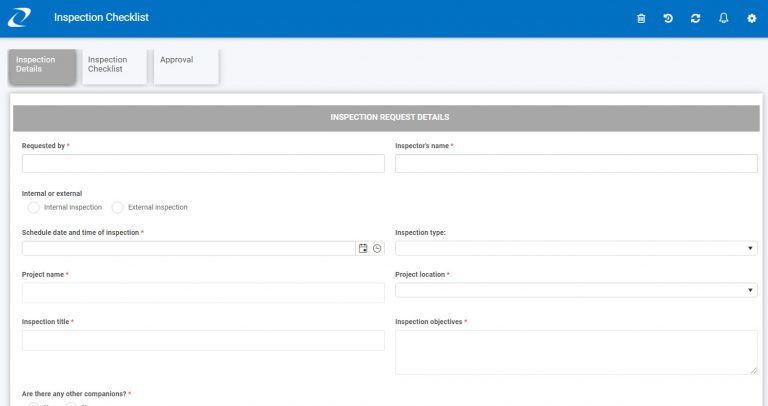 1 - Digitalise your inspection checklist and eliminate paper
After all, it is not efficient to rely on papers, emails, phone calls when the most important aspect of site inspections is to ensure that work is being done properly to the highest quality.
Digital site inspection checklists can be achieved with an online forms and workflow software like the one Kianda offers. 
This speeds up the entire procedure. Inspections can be scheduled on a regular basis and automatically assigned to inspectors.
Automated notifications and reminder alerts can easily be sent to inspectors to remind their schedules.
Inspectors can complete the checklist on a tablet or smartphone on site. As well, they can attach photographs, media evidence and annotate them when needed.
Then, final reports can be shared and made available in real-time to anyone who needs to see them.
2 - Use data reporting to increase quality and compliance
Data gives us the ability to see and understand progress of things. It is crucial to provide clear overview of the job progress to project managers or other decision makers.
It is important that inspector flags issues on time to avoid any project delays.
Data can help you with your inspection strategy and make better decisions. That is, with the right digital solution, such as online forms.
By using real time reporting not only data can be shared easily. But, any delays, bottlenecks can be spotted and dealt with in a faster manner.
Moreover, working with a digital solution means the records of site inspection tasks and results are saved. Particularly for future reference and auditing purposes. And it can be very valuable when a hand over to another inspector is needed.
Ultimately, you will be able to manage tasks in real time. And review progress from your browser, tablet, or mobile device at any time.
You will store the key data, not just scanned documents. All the while, optimising the process and collaboration between the teams.
With online forms, reacting fast can be a major advantage for companies of any sizes. Simply, to save time and resources immediately.
3 - Attach pictures and signatures on the go
Mobile online forms that allow you to take pictures, annotate and attach them to the form instantly is a must have. This eases the way pictures are attached to the reports. 
They can also capture digital signatures from client's and inspector's. As well as generating a PDF report instantly on the go.
4 - Look for flexible inspection checklist solutions
You must consider solutions that allow you to customise checklists, flow, rules, alerts and more. That is when you are looking for digital solutions to manage site inspections. Nowadays only capturing data is not enough.
You can always start with a site inspection template. But, it is vital to have the ability to make changes… big or small depending on your own needs.
With a tailor-made approach, a comprehensive site inspection delivers a better user experience.
Also, reporting should be provided in a flexible way. Different managers might have different needs.
Flexible reporting dashboards that allow exporting data into a format you need are important. Specifically, to help you achieve business goals and save time.
At Kianda, we build modern process apps that are both flexible and user-friendly.
Why not try our inspection checklist process app today?