Dynamic online forms for CAPA processes. Ensure health, safety and quality compliance by digitising and optimising corrective action plan procedures.
Improve
quality control

in your corrective action plan with workflow software
Digitalising CAPA processes with workflow software improves quality in many aspects, reduces risk of non-conformance and overall saves time and costs due to increased efficiencies.
From HR managers handling customer complaints or correcting training manuals to Quality Assurance managers correcting defects in products or services, using a good corrective action plan will determine the level of quality control in both business processes as well as the organisation as a whole.
Boost your corrective action plan with a digital CAPA process
Increased regulatory pressures and quality initiatives require you to take a more proactive and automated approach to corrective action plan processes.
Digital corrective action plan can ease the entire CAPA process, reduce risk and accelerate quality control.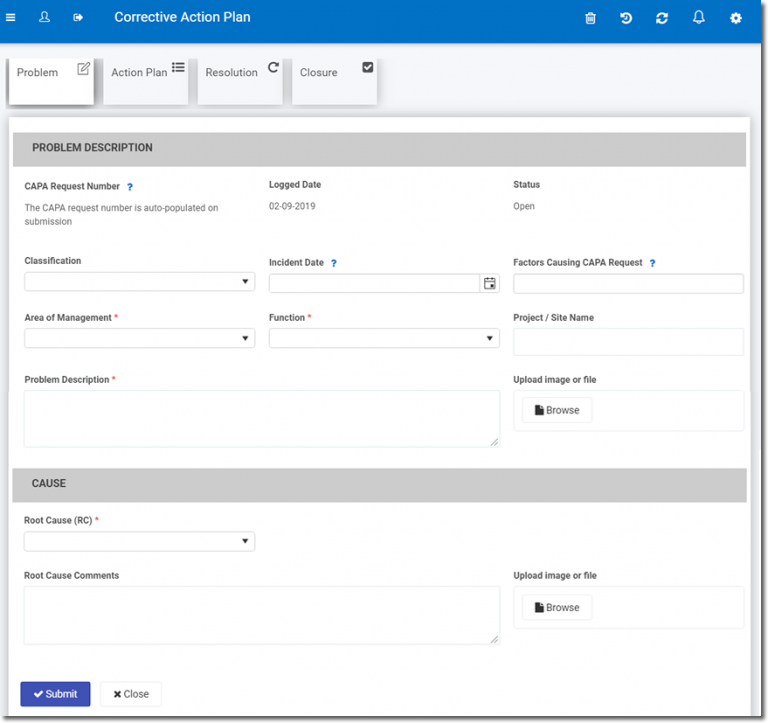 Progress corrective action plan through flexible and effective steps
Simplify the entire approach to your corrective and preventive action plan and reduce the administrative work by transforming the process with workflow software made of critical steps:
 Identify the problem
 Detail the action plan
 Determine resolution options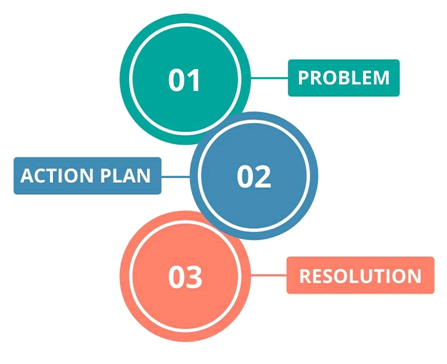 Prevent future re-occurrence proactively with a digital corrective action plan process
CAPA processes through handy mobile tools enable you to identify and record issues instantly, whether it be a hazardous piece of machinery on a construction site or a customer complaint.
With an effective corrective action plan, you can address non-conformance and take proactive steps to prevent potential problems in the future.
Why
digitise

your corrective action plan?
Manage your quality control through an effective Corrective Action Plan. Simplify your approach to corrective action plan by turning your processes into digital workflows.
Learn how you can digitally transform your corrective action plan into an efficient CAPA processes >>
Learn from today's corrective action plan and prevent future problems and non-conformances proactively.
Manage your entire CAPA process efficiently with digital forms in real time and centralise all the data in a single place.
Identify, address, and prevent recurrence of non-conformance by bringing transparency so that everyone follows the same way.

Track & report and monitor progress with a robust CAPA process. Easily share CAPA reports with other stakeholders.
Stop chasing people for approvals.
Let the system do it for you.
Approval Workflow Software for Ambitious Organisations
Workflow systems
designed

to achieve business goals
World leading engineering company DEME uses Kianda to optimise quality management to ensure compliance and safety

Global Dredging, Environmental and Marine Engineering company used Kianda's no-code/low-code platform to optimise their quality processes such as observations, inspections and incident reporting.

Resco selects Kianda as their preferred no-code development platform after trialing 86 other platforms

US manufacturer Resco Products selects Kianda no-code platform as the best match following an analysis of 86 top platforms to structure their data, replace cumbersome legacy tools, digitalise manual processes, automate their approval processes and overall improve business process management.

ATA built SAP applications 10x faster with Kianda's no-code development platform

Leading precision engineering company turned to Kianda to accelerate in-house application development and increase productivity and efficiency for their business processes across multiple departments.

Mercury connected their people through shared knowledge with innovation portal app using Kianda no-code business process automation platform

European engineering contractor, Mercury leveraged no-code automation to speed up application delivery. The company built a custom app "Knowledge Vault" with a purpose to connect their people and allow them to share their knowledge in a "media-rich" way on-the-go.

Construction company Lagan digitally transforms inefficient data collection processes into rapid, streamlined workflows

The company has built several workflows that allow accurate site management, data-collection, easy reporting, and effective collaboration with third-party employees using the Kianda no-code development platform.

Gulbenkian Foundation deploys a rapid returns process to tackle mass ticket cancellations due to COVID-19

Thousands of tickets had to be refunded. Manually managing these returns processes would take weeks or months. Instead, Gulbenkian Foundation built an application using Kianda's no-code technology and delivered an end-to-end digital returns process in 24 hours.

Mercury Engineering optimises project approval process with Kianda business process automation platform

Mercury Engineering switches to Kianda no-code platform and improves their project approval process, enhancing compliance and keeping knowledge in-house.
Accelerate digitalisation to deliver an impact today
Want to know how Kianda no-code business process automation platform can help accelerate your digital transformation journey.