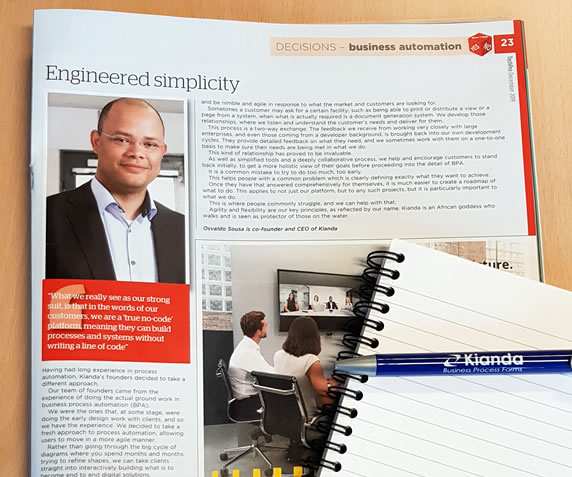 Great to see our expert Osvaldo Sousa featured in the TechPro Magazine December 2019 Edition focused on Business Automation.
A modern approach to process automation
Osvaldo explains how Kianda takes a fresh approach to process automation. As a result, users can move in a more agile and flexible manner.
Going through the big cycle of diagrams where you spend months and months trying to refine shapes is not suitable for everyone. Therefore, Kianda's process automation platform avoids this by taking clients straight into building digital solutions.
"We achieved this through simplified interfaces that are attractive, familiar and intuitive. We started with a modern approach, a modern interface so it makes everything familiar to users."
"Drawing on our industry experience, we created ways of turning those mapped processes into automation systems, but in a simplified manner, hiding the complexity, so that beautiful front end allows you to leverage all the functions behind it" adds Osvaldo.
Consequently, the Kianda platform is a diverse one. In other words, it allows users from any industry to use it. Due to the simplicity of being a true no-code platform.
"What we really see as our strong suit, is that in the words of our customers, we are a true no-code platform, meaning they can build processes and systems without writing a line of code."
Business automation can involve a lot of coding. Users with or without coding experience can use the Kianda platform.
For instance, those such as software developers can leverage their skills. In other words, a new module or widget could be created by a developer, if necessary. 
With that being said, added features may be created for those who do not have the necessary skills. One of our main priorities is customer feedback. Therefore, what we receive back converts into what we can do, to delivers customers needs.
Read more here.