The science behind citizen development (and digital transformation)
Citizen development is the bridge
Digital transformation does not only apply to the "technicians", or the tech geeks but, also to the people outside of the tech world for whom digital business transformation can all be very intimidating. This can create a digital divide. Technology should never be a barrier – it should be an enabler! That is what piqued his interest in citizen development. Giving people the tools, confidence and competency as well as understanding, to guide them to create their own solutions using technology is important in this digital age.
Citizen development is the bridge between the world of technology and empowering the people outside the world of technology.
It is the toolbox to make things happen.
Many organisations have already embraced citizen development initiatives and have thrived as a result.
There is something really empowering about enabling employees to create the solutions that they need. Moreover, enabling them to get involved and partake in the process. That is, with the ultimate insider knowledge into the pain point that this process will address.
We are seeing this demand.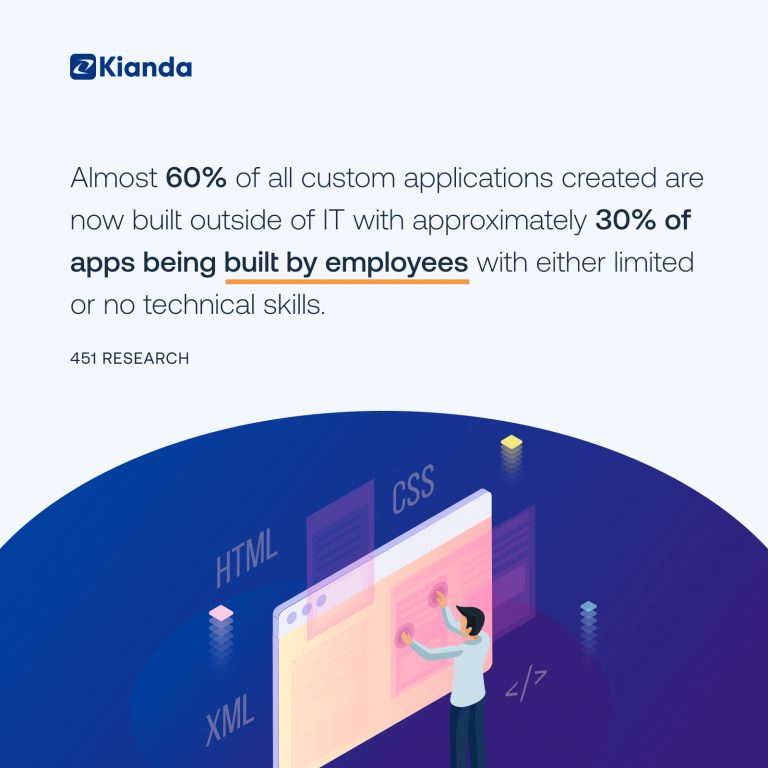 Many organisations are leveraging low-code, no-code application development tools such as Kianda to put citizen development into effect. This desire to give employees the tools to independently solve their pain points by leveraging citizen development is accelerating.
In fact, nearly 30% of business applications are being created by said citizen developers, without technical skills.
With that said, the term citizen development is often considered to be unclear.
The companies Noel Carroll who founded the Citizen Development Lab at the National University of Ireland Galway, interviews are sometimes thrown by the term citizen development. For instance, people sometimes get the wrong impression and associate it with social science or social experiments of some sort.
He prefers to include digital transformation to explain this terminology. 
Digital transformation provides deep structures and cultural changes within an organisation. But digital business transformation also goes beyond the internal organisation. It is also about transforming customer expectations and experiences. For example, through what is often described as a 'digital first' strategy.
As organisations are becoming more hyper–agile and embedding initiatives such as citizen development, we can see that digital transformation is more than software engineering. It is about buy–in, multiple stakeholder involvement, momentum and creating a continuum of change. But this is very challenging for organisations.
And we know this because there is still a very high failure rate. To sum up, less than 30% succeed.  
Noel thinks that the reason for those stark figures is that we are too distracted by digital aspects (chasing the next technology trend). That is, rather than unpacking and truly understanding the business transformation process itself. For example, we need to focus on the initial motivation or the rationale for a transformation.
A digital transformation is not just a grand reveal at the CEO strategy meeting.
Noel explains that in many cases, digital transformation often sits on PowerPoint decks in executive suites. Consequently, they never make it to the exciting phase of operationalising the transformation and infusing it across the organisation.
It is not just about a new website or app – that is not a digital transformation.
It is about setting specific success criteria, monitoring that your organisation is on the right track. Likewise, it is a voyage where you sail through some uncharted waters and use the transformation strategy as a compass. And it is foremost about changing social norms and making business transformation part of the DNA or the fabric of the organisation.
Fundamentally, digital business transformation is about a culture that coexists with any transformation process. Certainly, where things are progressing with the digital transformation, the organisation gets more efficient. As a result, people begin to realise the value of the digital transformation. After that, culture begins to evolve and become more accepting of change.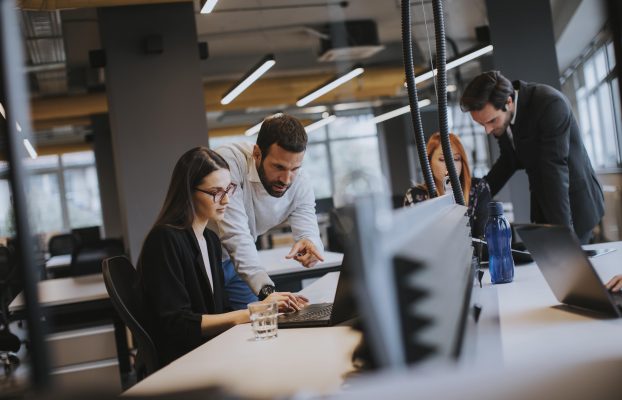 Successful organisations will already have a certain culture embedded with a positive attitude towards innovation and technology and a lot of emphasis on educating its staff.
Such a culture will also understand that change can be somewhat elusive and takes time. But, with the right guard rails in place, it can give a sense of reassurance through a transformation process.
In other words, it gives a sense that there is a method behind the madness.
The companies that we've engaged with can see value in having guidelines and guardrails (what I often refer to as the 'rules of the road') to implement change and transform an organisation.  
Sometimes the guardrails fall short and can miss the bigger picture. For example, how you embed a digital transformation as a process and how you get the culture element right first. 
There are some shining examples of companies that have actually adopted citizen development as a way of working and the momentum behind citizen development is growing fast.
Organisations are quite relieved to think that there is now a movement called citizen development. However, they need to be educated on it and how to embrace it as part of their capability maturity model. There are some really good cases in which organisations have demonstrated the benefits of it internally.
As a good example, world leading marine engineering company DEME Group is testament to the power of no-code, low-code and citizen development.
Using Kianda no-code platform, DEME fully built an entire bespoke Quality system that integrates with core data systems. The Group achieved great results which substantially improved overall quality management and user experience. 
I asked Noel what comes first. Structure or culture? His answer was strategy.
Strategy is where you start to see the business case and evidence around the rationale for a transformation. On the other hand, technology helps streamline the processes and starts the cohesion within teams to improve structures. Meanwhile, as this drives new structures and ultimately creates this ripple effect across an organisations culture around business transformation and innovation.
As a professor researching citizen development, where do you see LCNC go?
I think it's going to be another tool in the toolbox but one which becomes more accessible for all to play a role in a digital transformation. Further, it's going to be something you are going to use to accommodate for the growing pressures on digital business transformation.
In short, it's like the Lego blocks we are all familiar with where at first one may be overwhelmed starting to build something. But once you have the guardrails (in this case, the Lego instructions manuals), you can see a way forward. A way to build a really nice structure, explore, experiment, and learn – and hopefully have fun along the way!
Citizen development will be a major part of the organisational armour to compete in markets at a hyper-agile pace. Also, to try and bring people into the change game. In fact, organisations who are actively executing citizen development initiatives perform better than peers who are not. 
Going forward, citizen development will further drive value and impact.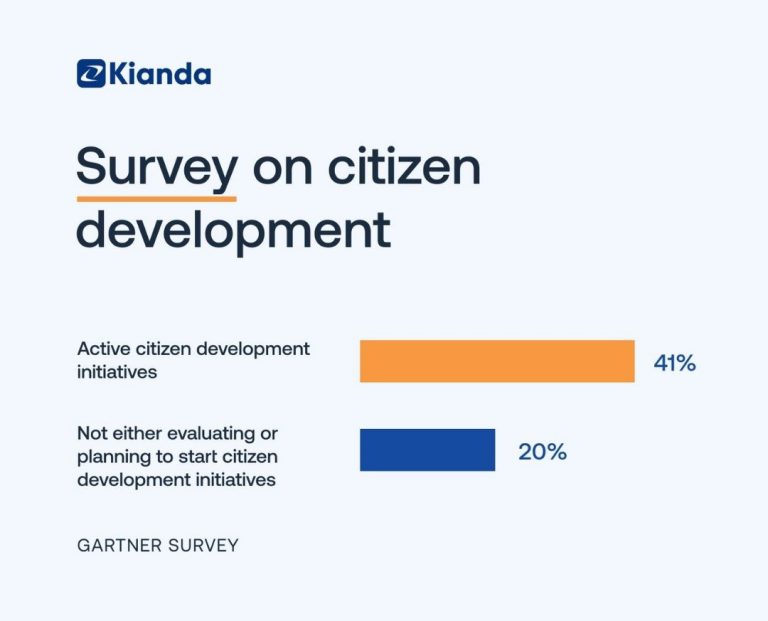 For example, I see a number of changes coming down the road: 
You think citizen development is a technological movement or a cultural movement?
I think it's a cultural movement.
Firstly, I think the technology movement is already there in terms of low-code, no-code, and there's evidence around the benefits of that. But I think what is missing is the overarching cultural piece, which is the important human side of any transformation that ultimately leads and sustains the transformation process. I think this is where citizen development is best positioned as that bridge between people and the world of technology.