We are absolutely delighted to announce that Kianda has won Fingal Enterprise Awards 2020.
CEO, Osvaldo Sousa and COO, Derya Sousa were awarded the winning plaque on March 5th at the ceremony, "Making it Happen".
In February 2020, Local Enterprise Office Fingal shortlisted 10 businesses to compete at the Fingal Enterprise Awards. All 10 companies went head to head for the final spot at National Enterprise Awards 2021. 
The competition was strong as there were very promising businesses among us. Therefore, winning, despite the level of competition was a great achievement for Kianda.
As winners of the Fingal Enterprise Awards, we received beautifully crafted award
Mayor of Fingal, Eoghan O'Brien, Chief Executive, AnnMarie Farrelly and Head of Enterprise, Oisin Geoghegan presented our award to us.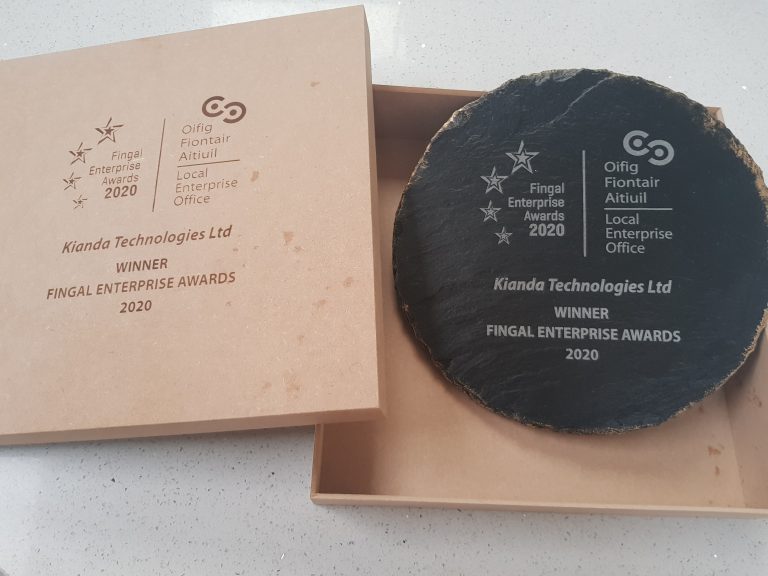 To the National Enterprise Awards 2020
As a result of winning, Kianda will represent Fingal at the National Enterprise Awards 2021. An initiative of the Local Enterprise Offices (LEOs), the National Enterprise Awards Final will take place virtually on the 11th February.
Across Ireland, 31 Local Enterprise Office's nominated their final winner to compete at the National Enterprise Awards. 
In other words, Kianda Technologies will compete against 30 other businesses in the running for winning on a National basis. 
Kianda continues to grow and develop
The support and recognition Kianda has received is outstanding. Moreover, it allows the business to continuously grow and reach optimum potential.
After winning the Fingal Enterprise Awards, Derya states:
"It is amazing that our digital process automation business Kianda is being recognised as a business with significant potential to continue to grow and develop, globally…"
The Kianda is a cloud-based platform helping companies to eliminate paper and automate all existing manual processes in a single place – and critically it empowers non-IT staff to build powerful business applications quickly with no coding.
In other words, we take a modern approach to process automation so that it is flexible for all users.
For the reason that Kianda is a no-code platform, users without technical knowledge can easily use the platform. Hence, anybody can build business apps and workflows with Kianda.
We want to thank everybody who supported us throughout the awards and overall.
Good luck to all contenders in the National Enterprise Awards 2021. In addition, we wish the very best of luck in the future for those we competed against in the Fingal Enterprise Awards. 
Seems like crossing our fingers worked the last time.
So again, fingers crossed for Kianda to now win the National Enterprise Awards 2021.