Why are no code development platforms emerging?
There is a rising demand for generating more software in today's business world. However, there is a limited number of skilled people who can create software. No code platforms are emerging because they're much easier to learn compared to coding.
No code development concept has positively changed how organisations conduct business operations.
Simply, by helping them to transition to an agile development strategy.
Are you in the IT department or the person who is responsible for digital strategies within your organisation? If so, you know how hard it can be dealing with many requests from business. Or, how long it can take to deploy a simple software to meet internal or customer requirements.
There is absolutely an easier and agile way to manage these requests.
First and foremost, the ability to create enterprise apps using no code business process automation tools allows you to automate laborious and repetitive tasks. 
However, there is a distinctive difference that determines whether your business can create enterprise apps in-house. That is, depending on the software that you choose. 
What are no code platforms for?
Let's have a look what we mean when we say no code platforms.
No code platforms are development interfaces that allow citizen developers to easily create enterprise apps, without coding. 
Citizen developer term is a growing trend in the IT world. It describes employees within an organisation who create new business applications by using development environments. For instance, no code or low code technology platforms, without being limited to programming knowledge.
Meaning with no code tools, users with or without programming knowledge can create applications. Simply, through drag and drop style graphical user interfaces. 
The idea of using no code platforms, most of the time focuses on the ability to bypass the IT department. In doing so, companies don't suffer with constraints such as time, money and other scarce resources such as software developers. 
However IT departments can also benefit hugely with the use of low code and especially no code platforms. Mainly to help them deliver solutions faster and maintain them internally with an agile manner.
Traditionally, if a company wanted to carry out software development they would need to outsource or hire a software developer. Therefore, this incurs additional costs and time for production.
As companies continue to deal with an increasingly mobile workforce, low-code and no code technology is on the rise. Simply because, codeless tools provide access to app development whether you are an IT Professional, or a Human Resource Manager.
So what is the difference between low-code and no code platforms?
The terms kind of speak for themselves. 
Low-code development is building apps that involve a certain amount of coding. In particular, it requires users to have a minimum level of experience in order to create their desired applications. And of course, the better the coding knowledge, the better the outcome. 
Due to this, it is more expensive to implement low-code. In short, it speeds up the development and deployment stage but it still requires additional costs to hire a programmer to build the app or to outsource.  
No code development is building apps without writing a single line of code.  Using no code tools enables app development, even without knowledge of coding language. No code platforms are specifically built so that the coding behind the scenes is left to the software developing experts.
So basically, you are building with code but the code is just hidden. And this is simply to make the app-creation process easy for end-users.
As a result, business users can quickly design, build and fast deploy digital solutions. Using no code technology is much more flexible and suitable for citizen developers or power users.
In addition, no code tools are less expensive compared to low code platforms to build solutions fast and maintain them in-house in the long run.
What are the benefits to using no code platforms?
Fast building and deployment
Building applications from scratch requires a significant amount of coding. With a no code app builder such as a business process automation platform, you can swiftly develop enterprise apps by avoiding the programming phase. In addition, execution of business processes is rapid and smooth, allowing tasks to be completed efficiently. 
Creating a digital business app requires a technical expert who can do so. And, this instantly raises operational costs and wages. No code platforms enable organisations to avoid these costs by simply putting non-technical users into the driving seat of automation. In other words, employees from HR and Finance to Marketing and Sales can easily deploy tailored digital solutions. 
App development is time-consuming. With no code software, IT teams can skip these stages and quickly create rich enterprise apps. As a result, IT departments save a large quantity of time, that usually would have been spent in developing. Because of this, they can essentially invest this time into other aspects of the business and bring innovation to the business.
On another note, this also allows IT and other departments such as HR or Finance, to deploy rapid solutions. Simply, employee productivity increases due to the acceleration in business operations from using no code platforms. 
No code platforms offer dynamic and flexible development
No code development can conveniently tailor to your business' unique needs. In other words, users can readily build enterprise apps based on the organisation's specific desires, without limitations. So, if you want to include a specific question in an online form, or send a notification to certain user based on an answer given to a question, you can certainly and freely do so.
No code platforms are particularly designed in a way that provides business users with flexibility. And, this is so that process can be altered based on internal changes. 
As previously stated, no code platforms are dynamic and flexible. Because of this, organisations can react fast and implement changes effectively and efficiently. Being agile is considerably important, especially in a highly competitive industry.
Therefore, the ability to adapt to shifting market conditions can essentially provide competitive advantage. As a result, your business can stay in-line or ahead of competitors. 
Kianda is a no code business process automation and application delivery platform that helps companies streamline every business process while eliminating inefficiencies and reducing development costs.
Recently, NoCode Journal – a digital magazine dedicated to cover the latest NoCode news – featured Kianda platform and our COO, Derya Sousa among other female leaders with emphasis on her role in the no code market.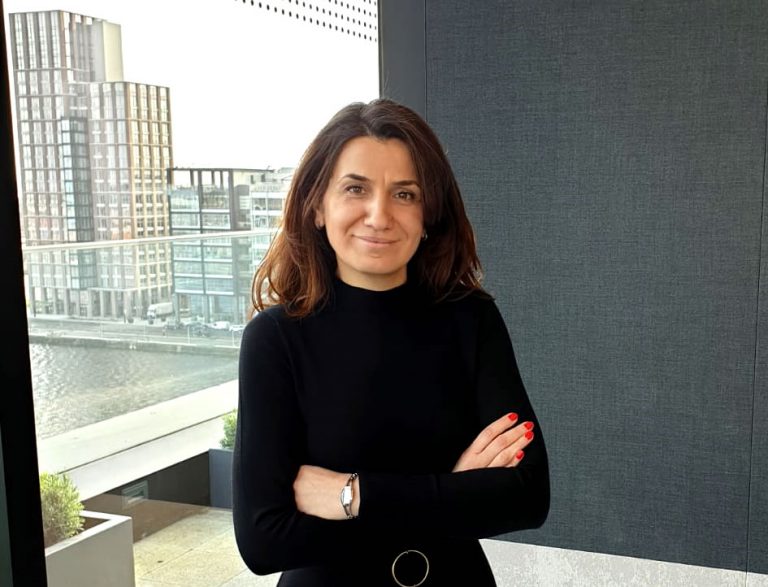 Kianda no code platform is helping companies across the globe to rapidly and successfully build tailored enterprise apps. Simply, Kianda's no code platform brings agility to organisations and accelerates digital innovation. 
"Kianda provides a cloud-based Enterprise Process Automation Platform for organisations to transform business tasks automate digital forms, workflows, and dashboards".
Why you should choose no code business process automation to develop enterprise apps
No code platforms such as Kianda allow you to implement fast digital solutions integrated to your ERP systems. Moreover, non-technical staff can create and maintain digital business applications. Therefore, you don't need to allocate extra costs for a software developer.
In addition, business won't be left waiting around for long periods of time for apps to be developed.
What previously took months or possibly years to build, can be done in days or as little as hours.
That is, with no code platforms such as the one Kianda offers.
Lead IT Business Analyst from Mercury Engineering highlights how easy it is to use Kianda Platform
Construction company, Mercury have been using Kianda to optimise their processes from project management to human resources. They have been successfully enhancing compliance and bringing agility to their business. 
Fiona McCabe, Lead IT Business Analyst highlights how easy business processes have become using Kianda. 
"Prior to Kianda, if someone had a problem, they would try to explain to me what it was, I took as much information as I could. And then, I rang the software experts to get them involved.
But now with Kianda, I'm having a 30 second conversation with someone in the corridor, able to ask some key questions. And, I'm walking away from that conversation, knowing whether or not I can fix this myself."
Fiona McCabe, Lead IT Business Analyst
Mercury Engineering have successfully retained significant amounts of time by using Kianda to deploy digital business processes. 
With Kianda, they can now iron out most of the requirements and changes internally, reducing expenses. And as a result of fast resolutions, productivity scales up, increasing efficiency of their processes. 
Unlimited forms and workflows
Organisations can swiftly build any amount of forms or workflows using Kianda. Therefore, you don't need to prioritise processes simply because there are only a certain amount of forms available. You have unlimited forms and workflows to play around with, allowing you to transform business processes without limitations.
Mobile-friendly forms
Kianda is built as a Progressive Web Application. It is available in any device. Mobility and flexibility allow teams who work in remote areas to successfully carry out business processes. Simply, Kianda allows you to access data and submit forms, even when you are offline. And, you can do this at anytime, anywhere.
Application template store
To help you get started, our app store provides 20+ pre-built forms. From this, you can easily implement any of these templates. In addition, they can provide insight into look and feel and layouts. This will then guide you when creating your own forms and workflows. 
Custom reporting dashboards
Kianda no code platform provides easy-to-use custom dashboards for data analytics and reporting. Users can swiftly build dashboards with exquisitely designed layouts, charts, lists and more widgets. Built-in detailed analytics makes visualisation of performance a breeze. 
Seamless data integration
Readily integrate workflows with ERP, CRM and IT systems on-premise or in cloud to efficiently share data throughout your company. Easy to connect APIs provide seamless single step connections to data sources such as SAP, SharePoint, O365,  SalesForce, Oracle, DropBox, Web Services and many more.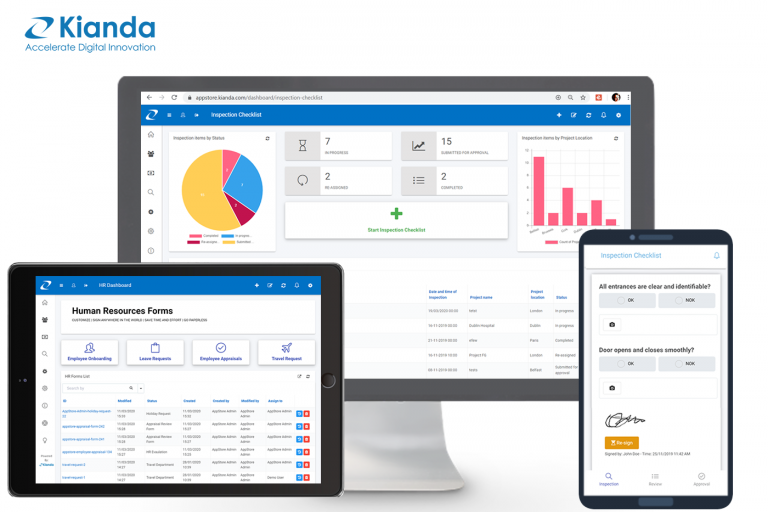 Typical business processes to rapidly digitise:
HR – Employee onboarding, Leave requests, Employee appraisals, Expense request, Timesheet management
Quality and Health and Safety – Incident reporting, Inspection checklist, Corrective action plan
Project Management – Project approvals, Document generation, Contract management
IT – Ticketing, Change request management, Asset management
Finance – Purchase order management, Capital approvals
Download the Ultimate Guide to No-code Development
Want to know how Kianda no-code business process automation platform can help accelerate your digital transformation journey.